Calabria. Under police protection the reporter who revealed the '"bow"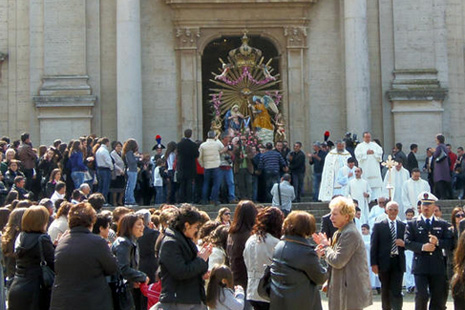 Investigators have intercepted a plan by the 'Ndrangheta to kill the journalist Michele Albanese, the first to report the procession in Oppido Mamertina
Michele Albanese, reporter for the Quotidano del Sud, has been under police protection since last night. He must move around in an armoured car and with two men as bodyguards. This was decided by the provincial committee for order and public safety of Reggio Calabria, at a meeting called urgently on the "basis of information in the hands of investigators that suggest without doubt of an immediate threat to the journalist", his daily writes on its front page. It seems that investigators have phone tapped a conversation between people linked to the 'Ndrangheta who are planning to kill him. Investigators maintain absolute confidentiality about the on-going investigations. Michele Albanese is the journalist who first broke the news in the papers of the bowing of the "vara" (icon) of Our Lady of the Graces of OppidoMamertina before the home of a boss of the 'Ndrangheta who is serving a life sentence under house arrest. In recent years the journalist had been the victim of serious threats from organized crime, brought before the Parliamentary Anti-Mafia Committee. Among other things, he also suffered a break-in into his home.
"I was in Sinopoli, in the Aspromonte mountains, to do my job as a reporter while following a murder – Michele Albanese told Ossigeno – when I received the request to go immediately to the police station in Reggio Calabria. There, they informed me that for my safety they decided to place me under protection."
Albanese is one of the top reporters of the daily Il Quotidiano, who lives and works in the Plain of GioiaTauro and who has been dealing crime and judicial news for years. He wrote and narrated the judicial vicissitudes of the most important mafia families: Piromalli, Molè, Bellocco, Pesce, Crea, Alvaro. He did it with rigour and professionalism, going in depth and making their criminal businesses public.
Albanese's newspaper, Il Quotidiano del Sud, broke the news expressing solidarity to the reporter of the entire staff. "There are still people who think that they can solve their problems by being able to silence a journalist, at the very least through intimidation. It is sad to know that there is still someone, in this land, that produces too many sorrows, believes his problems bears the name and surname of a journalist", was what Rocco Valenti, a colleague of Albanese, wrote in an article on the daily.
To Michele Albanese goes Ossigeno's full solidarity.
DB/ASP

I contenuti di questo sito, tranne ove espressamente indicato, sono distribuiti con Licenza
Creative Commons Attribuzione 3.0