Defamation. Cyclist suspected of doping files lawsuit against two journalists of La Repubblica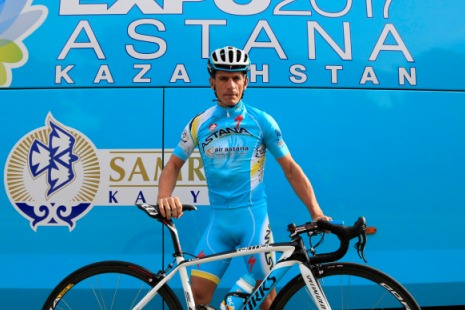 Paolo Tiralongo denounced Giuliano Foschini and Marco Mensura for an article on an investigation by the NAS unit of the Carabinieri
The cyclist Paolo Tiralongo sued for defamation the newspaper La Repubblica and the journalists Giuliano Foschini and Marco Mensurati, authors of the article "A bag more and you would have won"(Unasacca in più e vincevi) published on December 7th, as it relates to the alleged involvement of the sportsman in an investigation on illegal blood transfusion practiced in the cycling world. The athlete from Avola has announced a legal action against the two journalists and the newspaper with a statement posted on December 13th, 2014 on his official website.
The article reports a phone conversation tapped by the NAS unit of the Carabinieri with a teammate of Tiralongo: according to the words of his colleague, the historic gregarious runner of the Astana team would have submitted himself to blood transfusions performed by Dr.Eufemiano Fuentes, known in the sports and criminal worlds for exercising prohibited medical practices. Dry the reply by Tiralongo's lawyer: "The article reports a series of allegations and suspicions without reasonable foundation".
THE CASE – The report by the NAS unit of the Carabinieri was presented to the public anti-doping prosecutor of the CONI (national sports committee), and apparently it reveals a strong penetration of doping practices within the cycling world, which revolve around the controversial figure of Dr. Michele Ferrari, nicknamed "Dr. Myth". According to the police, the doctor would have had a stable relationship with forty athletes to whom he practiced prohibited medical services with the intent to favour them in sporting competitions.
The article mentions in particular the case of the cyclists of the Astana team who were followed by Dr. Ferrari and his son and that, according to the journalists of La Repubblica, everyone knew were making use of blood transfusions.
It is the phone tap of a teammate of Tiralongo that has dragged him in: "go see Fuentes and get your oil changed…".
The denial by the legal representative of Tiralongo was adamant: my client "denies any wrongdoing and insists strongly that he had never had contact with Fuentes and never put in place practices such as blood transfusion as, on the other hand, the newspaper article would have understand by using the phrase 'oil changed'."
AF

I contenuti di questo sito, tranne ove espressamente indicato, sono distribuiti con Licenza
Creative Commons Attribuzione 3.0