Defamation. To trial for Facebook comment on advertising campaign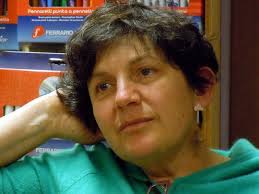 The journalist Marina Morpurgo has criticized the decision to use the image of a little girl on a poster. In May, the first hearing at the court of Foggia
A criminal trial for libel for a comment on Facebook. That's what Marina Morpurgo will face, former correspondent for L'Unità, for having criticized on the social network an advertising campaign of a vocational school in the city. The public prosecutor of Foggia has indeed issued a direct citation against the journalist, who stands accused of libel charges for having "offended the honour" of the training school from Siri, "mocking the advertisement campaign through a social network."
In October, the reporter received from the municipal police the notification of a complaint. The incident dates back to a year ago when Marina Morpurgo had entrusted to Facebook her judgment on a poster of the vocational school that depicted a seductive little blonde girl with a lipstick in her hand and the phrase "I'll be a make-up artist, My ideas have always been clear".
"It was a horrible ad that was part of a campaign that I didn't liked. I went on the Facebook page of the school and I expressed my disappointment in a contained manner, accusing them of having an archaic view of women", the reporter tells Ossigeno.
The reporter then also wrote a comment on her personal profile, saying that "those who had created the campaign should be tarred and feathered." A phrase, she assures, "which Uncle Scrooge used to say in comic strips. A joke, something funny." Evidently, the institute's board must not have thought the same way, since it decided to move against her.
CT

I contenuti di questo sito, tranne ove espressamente indicato, sono distribuiti con Licenza
Creative Commons Attribuzione 3.0