No Defamation. Collecting signatures against the reform before the House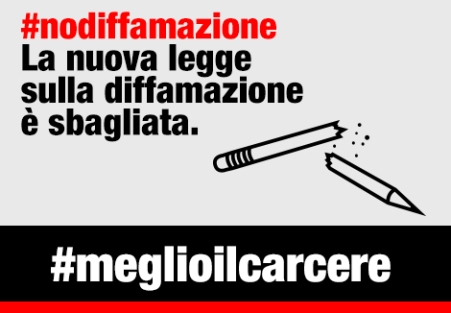 Launched by various organizations including Ossigeno. The text of the appeal. The promoters
On the eve of the restart, in the Lower House, of the examination of the draft law on libel, various organizations of the journalistic world together with renowned journalists, personalities and constitutionalists, are asking with a petition to Members of Parliament not to approve the text approved last October by the Senate, but to making all the necessary changes also listed by the European institutions.
Ossigeno per l'Informazione is one of the promoters of the campaign together with Articolo 21, Anso, Altroconsumo, Confronti, FNSI, LiberaInformazione, Libertà e Partecipazione, Mediacoop, MoveOn, ValigiaBlu, USIGRAI. Among the signatories, LirioAbbate, Federica Angeli and Giovanni Tizian, journalists who are living under police protection, the President of the Order of Journalists EnzoIacopino, the secretary of the FNSI Franco Siddi and the jurist Stefano Rodotà, according to who the current text of the bill "provides risks to the constitutional right to inform and be informed" and "this is why the law is dangerous, not only for the freedom of information but for democracy itself."
THE TEXT OF THE PETITION can be read and signed on the site nodiffamazione.it. The petition starts from the "key point" of the bill: if on the one side prison sentences for journalists are eliminated, on the other rules considered restrictive to freedom of expression are being introduced: "The new law on defamation is wrong. It was supposed to be a reform of the press law that eliminated the penalty of imprisonment for journalists, freeing information from the risk of disproportionate sanctions, in order to protect the fundamental rights of the press and of critique: the text approved in the Senate is likely to achieve the exact opposite, revealing to be a misguided attempt to limit freedom of expression on the web."
"Financial penalties of up to 50'000 euros that appear on the one side ineffective for large publishing groups and on the other potentially devastating for independent information", "the right to rectify immediately and completely a text considered harmful to the dignity of the person concerned, without the possibility to reply or comment neither for the journalist nor for the responsible editor"," the introduction of a sort of generic right to be forgotten that will allow the indiscriminate requests of removal of information and news from the web": these are the main points of the bill for which associations and journalists are asking citizens to sign the petition, and lobbying parliamentarians to reject the bill.
THE STANCE TAKEN BY OSSIGENO has been exposed in an article. The Observatory considers appropriate that those who hold dearly to the freedom of the press and wants a just law on defamation, do everything possible to convince parliamentarians to insert in the bill in question all necessary measures to avoid unjust punishments, effective deterrents that are applied against specious litigation, and cases of damage compensation claims that in Italy represent 40 per cent of intimidation acts against journalists and media workers.
The Deputy Minister of Justice, Enrico Costa (signer of the bill) strongly defends the text under discussion: "2015 will have to be the year in which this text is approved once and for all", he said in an interview with the daily La Repubblica, adding that "the key point of the law is that it clears the jail for journalists who will be punished only by a fine."
DF/ASP

I contenuti di questo sito, tranne ove espressamente indicato, sono distribuiti con Licenza
Creative Commons Attribuzione 3.0