What is going on in Italy – Safety Net Ossigeno – 29th December 2014 – 4th January 2015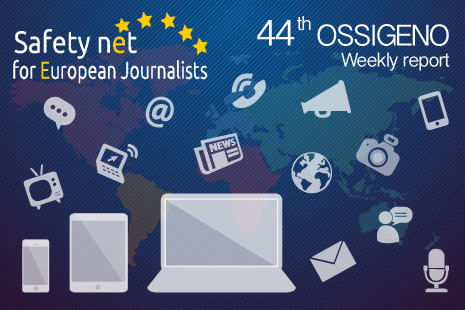 The 44th of 48 weekly reports created with the support of the European Union and disseminated in eleven countries to promote a common awareness
Safety Net Ossigeno – Weekly Report 29th December 2014 – 4thJanuary 2015
What happened in Italy: threatened journalistsand obscured news
In the week straddling 2014 and 2015 Ossigeno per l'Informazione has kept his eyes open, noting, if proof were yet needed, that the complaints are one of the most frequent forms of intimidation against journalists. Fortunately, however, even in this context there are sometimes some good news: and so the news of archiving of the criminal proceedings against journalists Franco Oddo and Marina Di Michele, Chief Editor and Deputy Chief Editor of the magazine La Civetta di Minerva from Syracuse, Sicily, allows to start the year off on a positive note.
On January 15th, the journalist and blogger MatteoGracis, administrator of the website nuovocadore.it, must present himself to the Court of Belluno and answer to the defamation lawsuit lodged against him by the former member of the PDL Maurizio Paniz, annoyed by a comment posted in the forum section of the journalist's blog by an anonymous user.
ONLINE COMMENTS – The City Council of Monte Argentario (in the province of Grosseto), led by the Mayor Arturo Cerulli, has allocated 3'000 euros and instructed the lawyer Giuseppe Nicosia to submit a complaint because of possible defamatory contents that would be disseminated through social networks. According to the administration, some online comments unjustly accuse the municipality of wanting to "demolish illegally" thirty holiday homes located in the seaside of Feniglia.
BLOGGER SUED – The blogger DavideBusetto is being sued by the economist Eugenio Benetazzo for a critical essay posted on the blog www.davidebusetto.it where the economist was depicted as a "man of the far right." The next hearing is scheduled for March 6th.
LAWSUIT WITHDRAWN – The mayor of Livorno FilippoNogarin announced that his council will withdraw the lawsuit against the dailies Il Tirreno and La Nazione, the newspapers that published the satirical cartoon on reimbursements to councillors, and against the cartoonist.
Syracuse. The parable of La Civetta: eighteen lawsuits sent to the archives after three years
Right to report. The judge for the preliminary investigation of Messina stresses that the newspaper had anticipated "ministerial inspections and disciplinary proceedings against certain judges"
They correctly exercised the right to report, among other things, signalling to readers issues that are "closely related to the reasons that led to the start of ministerial inspections and disciplinary proceedings against certain judges". Continue reading
Manager of nuovocadore.it to trial following complaint by MP Paniz
Matteo Gracis is accused of defamation for a post published by an anonymous user who had criticized the activities of the former PDL MPMatteoGracis, thirty-one years old journalist and blogger, administrator of the website nuovocadore.it, must present himself to the Court of Belluno on January 15th, 2015 and answer to the defamation charges lodged against him by the former member of parliament of the PDL Maurizio Paniz. Continue reading
City Council announces lawsuit for defamatory statements on social networks
The town administration of Monte Argentario does not like some criticism about its work in the "Feniglia question" and as such it has turned to a lawyer
The City Council of Monte Argentario (in the province of Grosseto), led by the Mayor Arturo Cerulli, has allocated 3'000 euros and instructed the lawyer Giuseppe Nicosia to submit a complaint against possible defamatory contents that would be disseminated through social networks. Continue reading
Preganziol (Treviso province)."Benetazzo friend of Forza Nuova". Blogger to trial
DavideBusetto is accused of defamation by the economist from Vicenza. Heard by the Court of Treviso on December 9th. Next hearing on March 6th, 2015
The economist Eugenio Benetazzo brought to court the 23-year-oldDavideBusetto, known in Preganziol, in the province of Treviso, for his civic engagement and for his blog www.davidebusetto.it. Continue reading
Livorno. "We exaggerated." Mayor withdraws lawsuit against Il Tirreno and La Nazione
"We simply had to open a discussion with the authors of the satirical cartoon on the refunds to councillors" admitted FilippoNogarin
The City Council of Livorno will withdraw the lawsuit against Il Tirreno and La Nazione, the newspapers that published the satirical cartoon on reimbursements to councillors, and against the cartoonist. Continue reading
RR

I contenuti di questo sito, tranne ove espressamente indicato, sono distribuiti con Licenza
Creative Commons Attribuzione 3.0
Questa pubblicazione è stata prodotta con il contributo dell'Unione Europea. La responsabilità sui contenuti di questa pubblicazione è di Ossigeno per l'informazione e non riflette in alcun modo l'opinione dell'Unione Europea. Vai alla pagina del progetto Safety Net