Defamation. D'Alema announces complaints against journalists for the Ischia case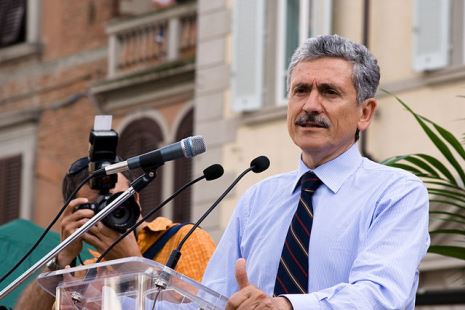 He instructed his lawyers to proceed. To a reporter he said: "Give me your name, I'll denounce you". Reply from Order of Journalists, FNSI and Ossigeno: questions must be accepted
It's a fight – and it's no news – between Massimo D'Alema and journalists after the member of the Democratic Party has announced legal action against those who have made or will make allusions about his real relationship with the cooperative Cpl Concordia. In particular, D'Alema responded with disproportionate tones, only to then excuse himself, against Filippo Barone, a journalist for the TV show Virus (aired on RaiDue) who asked him a question on the wine he produces purchased by the company now under investigation.
The spat between D'Alema and the Virus journalist went on stage in Bari on Wednesday, April 1st, 2015. There is a crowd of journalists, photographers, cameras. The former Prime Minister answers questions on the purchase of its wine, denies sales of favor and links between the incident and the investigation for corruption in progress. But after the question by Barone he loses his temper and bursts: "you said that I sold the wine during a convention of the Democratic Party? What's your name, please? I have to send this information to my lawyer. You will receive a complaint." Later, talking with other reporters, D'Alema will say: I am sorry that I was "angry with a colleague of yours".
However the decision to announce lawsuits to restrain the publication of unwelcome news stays. The lawyers Guido Calvi and Gian Luca Luongo announced that they have received from Massimo D'Alema the mandate "to protect his integrity in both civil and criminal courts following reconstructions that are evidently incorrect and instrumental" that appear on some press about the judicial inquiry on bribes for the gasification of the island, in which the cooperative Cpl Concordia has a key role.
PC

I contenuti di questo sito, tranne ove espressamente indicato, sono distribuiti con Licenza
Creative Commons Attribuzione 3.0