Press freedom in Italy is still "partial", says Freedom House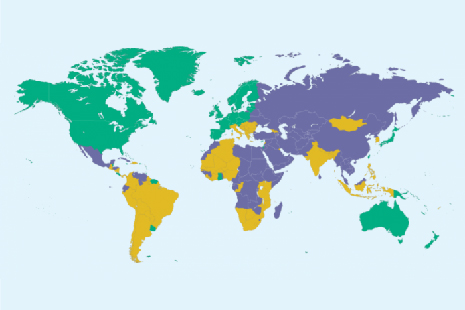 It is the black sheep of the EU along with Greece. 64 countries have more free newspapers. No improvement in a year. A bad grade also from Reporters Without Borders
In 2014, Italy was ranked 65th out of 199 countries, and is still one of the countries where the press is only partially free. These results were produced in the new Freedom House report on the state of press freedom in the world published on 29 April 2015. Italy received 31 points out of 100, just like last year.
The rating is assigned by evaluating separately the extent to which three contexts are conducive to press freedom: the legal context, for which Italy gains 12 points; the political context, with Italy gaining 10 points; the economic context, for which it got 9 points.
Also this year, the geographical map of Europe in which each country is marked with a different color depending on the degree of freedom of the press, Italy appears as a yellow spot (the color corresponding to partial freedom) well separated from the large green blot (the color for full freedom of the press) of the countries of the rest of the EU, with the exception (yellow) of Greece. The map makes it clearly visible that among established democracies; Italy is the only country where press freedom is partial. In fact, in all countries compared to Italy – such as Germany (24thplace), Portugal (25th), France (35th), Britain (39th), Spain (56th) – have a press context considered totally free. But in Greece, a country that occupies a position in the ranking that is even further aback at number 109, the press is considered as partially free as in Italy.
Countries where press freedom is considered more free, and that therefore occupy the first positions of the global ranking of Freedom House, which includes 199 countries, are all in the European continent: from Norway, which is first in the standings, to Switzerland, that is ninth, passing by Sweden, Belgium, Finland, the Netherlands, Denmark and Luxembourg.
The negative assessment of Freedom House on the state of press freedom in Italy coincides substantially with the recent judgment from Reporters Without Borders, which has placed Italy in 73rd place.
RDM

I contenuti di questo sito, tranne ove espressamente indicato, sono distribuiti con Licenza
Creative Commons Attribuzione 3.0