Prison for defamation. Since 2011 sixteen years in jail to 20 journalists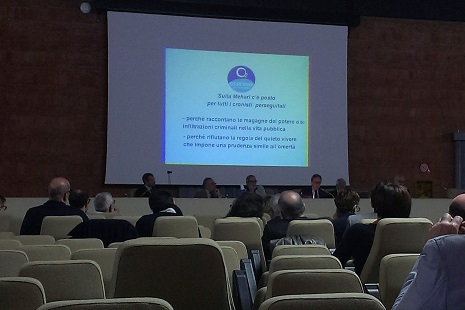 Ossigeno data disclosed at a training course at the National Central Library. Debate between Iacopino and Della Volpe with the speaker of the law under discussion in the House
Over the last four years in Italy at least twenty journalists have been sentenced to prison for the crime of defamation. Two have begun to serve the sentence, and then returned free. Overall, judges have inflicted more than 16 years in prison. This figure results from a search by Ossigeno per L'Informazione on reported cases from 2011 to the present day. The research will be published before the summer. The most sensational fact was anticipated on Friday, May 22, 2015 by the journalist Alberto Spampinato, director of the observatory on journalists who are victims of intimidation, during the professional training course for journalists entitled "Adjustments and defamation. A good practice to exercise rights and obligations", which was held at the National Central Library in Rome, during which there was a confrontation between the MP Walter Verini, speaker of the bill on defamation, and attended by the president of the Order of Journalists, Enzo Iacopino, and the President of the FNSI, Santo Della Volpe, the secretary of Ossigeno Giuseppe Federico Mennella, and the lawyers Andrea Di Pietro and Martino Umberto Chiocci.
THE PRISON – The research by Ossigeno regards the small number of trials for defamation of which the Centre is aware of. It is therefore reasonable to think that the convictions and jail sentences are actually more. The Director of Ossigeno urged the Ministry of Justice to provide complete data, extracting it from the official statistics at his disposal. For all the cases cited by Ossigeno, the execution of the prison sentence has never begun, with two exceptions: Alessandro Sallusti in 2012 began to serve his sentence under house arrest and released a few days later returned free as a result of a measure of clemency by the then President Giorgio Napolitano, who commuted the prison sentence to a fine, and Francesco Gangemi, who was arrested in 2013 at the age of 79, who left prison five days later for age reasons.
The last convictions documented by Ossigeno are those of Pierluigi Visci, editor of Il Resto del Carlino, punished with 8 months in prison for an obituary judged defamatory, and Antonio Cipriani, a former editor of the newspaper chain E-polis punished with five months of detention.
Update: the Last version of the dossier lists thirty journalists sentenced to prison in four years. Read the full text of the dossier sulle condanne al carcere dei cronisti
MF-ASP

I contenuti di questo sito, tranne ove espressamente indicato, sono distribuiti con Licenza
Creative Commons Attribuzione 3.0