Remembering killed journalists and protecting threatened reporters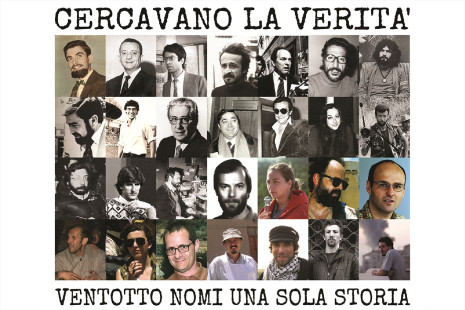 This is the only way to give significance to the Day of Remembrance of killed journalists. Proposals and a deadline to accomplish results
The information and the journalistic profession have undoubtedly a public value and interest. But Italian law does not recognize it explicitly as it would be necessary. This is also why Italy does not reflect enough on the risks that journalists face. This is also why Italy does not address the more dramatic problems for the performance of this profession. This is also why in Italy, few people realize that those who threaten a journalist affect the public interest. The day of memory of journalists killed offers an opportunity to reflect on these things.
This event, organized by the United Nations and celebrated every year in Italy thanks to the UNCI, is primarily intended to revive the memory of the many journalists who have lost their lives because they have performed with courage, honor and in the public interest the duty to inform the public about facts that citizens have the right to know, who need to know to consciously participate in public life.
These celebrations are not mere commemorations. They serve to draw results. To check how many and which of the problems that killed many brave journalists are still waiting for a solution. In other words, these ceremonies give us an opportunity to discuss to find which is the best way to effectively protect journalists from foreseeable risks that their profession involves.
RISKS – Obviously, who reports positive information already covered or published by others does not incur any risk. Instead, who dutifully recounts controversial issues, the vices of power, and criminal behavior often incurs in threats, intimidation, retaliation, instrumental accusations of defamation or complaints of violation of secrets that the reporter is not required to keep. These risks are real and obvious. Yet it is widely believed that it is necessary only to protect journalists who go to war zones. It is not so. The names that we remember today demonstrate that a stronger protection for those working in peaceful countries like Italy is needed. Especially for those who cover stories on the mafia, on criminal politics, terrorism and corruption; but also for those who dutifully refer of dirty business involving politicians, businessmen and criminals, or scandals, or unclear behaviors of public administrators. It is quite risky to be the first to address, or be the exclusive outlet, of this kind of news. Who does it affects specific interests and arouses strong reactions. There are thousands of reporters who to this day are subject to threats and reprisals for these reasons and suffer the consequences.
For seven years Ossigeno per L'Informazione has been voicing the intimidation and abuse occurring in Italy. It gives account of the single episodes and publishes the names of the victims. The list, although incomplete, is very long. It includes more than 2,300 names. It is available on the Ossigeno website along with the story of each victim. It has been hard to collect this documentation, but it served to raise the issue through the proof of evidence. The documentation collected by Ossigeno has gone through the scrutiny of the Parliamentary Anti-Mafia Commission during two legislatures and it is at the heart of two parliamentary investigations that have studied the phenomenon. This documentation is now known and appreciated by international organizations that defend freedoms of expression, speech and press, who are inspired by it to delve deeper into the problem.
On the basis of this extensive documentation, the question of establishing a less punitive legislative framework for those who provide information in the public interest and to define safer working conditions for those who do it as a profession in Italy is being framed. Therefore, to talk about the protection of journalists is necessary, even in Italy. But it is necessary to frame the situation correctly.
Twenty-eight Italian journalists have been killed since 1960 while they were committed to inform people about events of mafia and terrorism, on controversial issues, on uncomfortable truths over which hangs a curtain of silence. Eleven journalists were killed in Italy, 17 have died abroad while performing their work. The history of each of them (read their names) and others who were assaulted and suffered injuries as a result of their work during the terrorism years is told in the 'Book of Memory' created in 2008 by the Italian National Reporters Union downloadable for free at this link.
Each of these journalists had pledged to discover important events that others wanted to silence; they had pledged to report them to the public with images and words. These journalists carried out their information activities in the public interest. They did it knowing that it was dangerous. Each of them has accepted the risk of observing the facts directly and closely, as is required of every reporter whenever this is necessary to enable citizens to participate consciously to public life, to exercise their rights and make their own choices knowing what happens.
A CURRENT PROBLEM – Even in 2015 reporters run high risks intimately related to the collection and dissemination of sensitive and disputed information that others would like to keep quiet. From January 1st Ossigeno added a further 155 names to the list of Italian journalists threatened. Throughout Italy, many other journalists have been subjected to intimidation, threats, retaliation, and abuses because of their work and against which they do not have the strength to denounce teh facts and make public. Many reporters must guard against false and spurious lawsuits filed by people who just want to intimidate, by people who want to block news of public interest using a punitive law against journalists that, among other things, imposes legal costs beyond the reach of many chroniclers. Other reporters suffer serious threats. Because of death threats, at least 15 journalists have been living for years under police protection.
Ossigeno per l'Informazione follows and recounts the cases of all those reporters who are subjected to threats and abuse. The Observatory does so in the belief that the visibility will foster resistance and that it will help bring on the public debate a problem that weakens our democracy. Ossigeno assists these reporters, and promotes solidarity with them. But solidarity, it must be said, in many cases is weak and does not break the isolation of those who suffer threats and abuse.
A NEGLECTED PROBLEM – For years, on top of analyzing the causes of the threats, Ossigeno has elaborated protection measures for the most vulnerable journalists. Some of these proposals could be adopted with little effort by the institutions, by politicians, by legislators, by newspaper editors, publishers if only there were more attention to these issues. Instead, although the list of things to do has been know for long, in recent years no measure has been adopted. The media do not talk about these things. Many ignore the problem and as a consequence the idea that it is necessary to prevent risks is not gaining ground while the number of acts of intimidation keeps on rising. Many journalists continue to endure intimidation and retaliation in silence and in solitude. Many reporters are living in difficult times; facing a foreseeable risk they must decide alone whether face to face it instead of taking refuge in self censorship, which often seems the only prevention available and is accepted even if drifts away from the professional ethics. These are dramatic choices that are reflected on the quality information, which as such is often incomplete. But the public debate on this topic is mute. Taboo prevents it. We need to break the widespread silence, while facing a concrete problem of prevention of a compelling risk, where everyone defends himself as he can, making the right choices but the wrong compromises amidst the general indifference. The newspaper editors and publishers invent the rules to follow case by case each time one of their journalists is threatened. It is not wise to postpone these discussions further.
WHAT TO DO – In 2012 and then in 2014 Ossigeno has advanced a series of proposals to the Parliamentary Anti-Mafia Commission and now, on the occasion of the celebration in Florence of the Day of Remembrance of the journalists killed Ossigeno suggests to develop an extensive public debate on them, on the possible choices to be taken, and on the most appropriate protective measures to be adopted. Ossigeno proposes to put on the table the results of this debate, next year on May 3th 2016, when we will celebrate the ninth edition of the Day of Remembrance, so that the dedication of this event to the journalists under threat will not be a mere formality.
ASP

I contenuti di questo sito, tranne ove espressamente indicato, sono distribuiti con Licenza
Creative Commons Attribuzione 3.0