Tv show "La Gabbia" reporter attacked by a group of Roma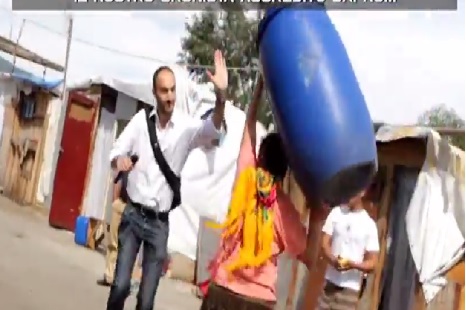 Marco Ferini was outside of a warehouse squat in Florence. He was threatened and then hit with a plastic bin and other items
The journalist of the TV show La Gabbia Marco Ferini was first threatened and then attacked by a group of Roma outside a squatted warehouse on the outskirts of Florence. The reporter, with an operator, was filming the conditions in which they live, inside the shed, families with women and children and had interviewed the owner of the property, who had to pay 15 thousand euro of property taxes every year despite being unable to use the area. The video of the attack was aired in two parts, during the episode of La Gabbia on La 7, on Wednesday, 15th May. Ferini, after being hit by a plastic bin and flying objects, was brought to the emergency room with a slight concussion, bruises and different abrasions. The operator too was hit slightly in the leg by a scooter, but without consequences.
THE AGGRESSION – In the aired service, the journalist tries to talk to the group of Roma and goes inside the enclosure with the operator. After his demands he is first insulted and then threatened verbally. The reporter thus decides to call the police. But even with the police present, the aggression does not stop. Ferini, professional journalist, is first warned ("Do you want to get yourself killed? go away", can be heard in the video), and then threatened with a crowbar and doused with putrid water. Then the throwing of stones, chairs and a plastic bin that harmed the reporter on the forearm.
"The consequences are more psychological than physical – Ferini tells Ossigeno – it wasn't nice to have all these people around me that were threatening me. It was a bad feeling to be surrounded. It hit me and weakened me for the following days."
The reporter said he had tried to make contact in order to understand how they ended up living in those conditions. "My job is to show things – he says – not to go against a community." After the airing of the service, several local news outlets picked up the case, some local newspapers and online. The reporter said he received solidarity from colleagues and personal contacts, but no institutional contact." The reporter then explained that he was contacted by a representative of the association Nazione Rom (Roma Nation) Marcello Zuinisi who apologized for the attack. Moreover the Roma, invited to the show La Gabbia, were unwilling to participate.
GA

I contenuti di questo sito, tranne ove espressamente indicato, sono distribuiti con Licenza
Creative Commons Attribuzione 3.0