Seregno. Former Mayor curses local blog "they must die"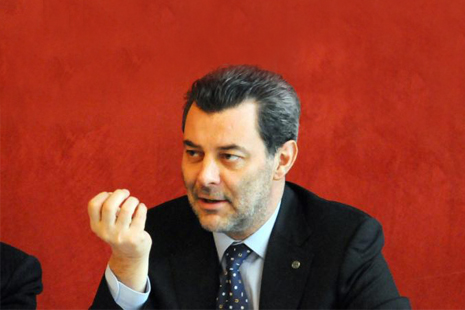 He said it in front of TV cameras during an official ceremony. Bloggers reply: he already filed dozens of lawsuits. Solidarity from Ossigeno
During the end-of-term ceremony, Giacinto Mariani, former mayor of Seregno (Monza and Brianza), addressed curses and threatening expressions against reporters of a local blog of inquiry, without naming it explicitly, but nonetheless in order to identify it clearly as Infonodo.org, an online newsletter that in recent years has repeatedly reported unclear behaviours from local administrators, and because of this was taken to court several times, although so far has never been convicted.
"I hope that the anonymous website that went off tonight dies, because it deserves to", "These people are not worthy to be called by name. These people must die", Mariani said verbatim in the City Town hall where on the evening of Monday, June 15, 2015 he had rallied his supporters. The speech was recorded by the cameras of the local broadcaster, Seregno TV.
"Enough with the mean acts, I hope that the opposition stops referring to anonymous websites managed by animals, by bandits, by disgusting thieves", the former mayor added as he hugged the newly elected Edoardo Mazza, who was cheering and smiling. "Bravo" shouted the audience, which raised choruses of appreciation.
Ossigeno has expressed solidarity to Infonodo.org. "We know – the director of Ossigeno, Alberto Spampinato, said – that some public administrators dream that we speak of them only in terms of propaganda, and make a barrage of lawsuits so as not to answer questions. It is an all-Italian barbarity. The use of threatening language is another barbarity that we all must reject and condemn. I hope that the former mayor of Seregno apologizes to the authors of the blog and to his citizens".
RDM-ASP

I contenuti di questo sito, tranne ove espressamente indicato, sono distribuiti con Licenza
Creative Commons Attribuzione 3.0