Calabria. Michele Albanese has been under police protection for over a year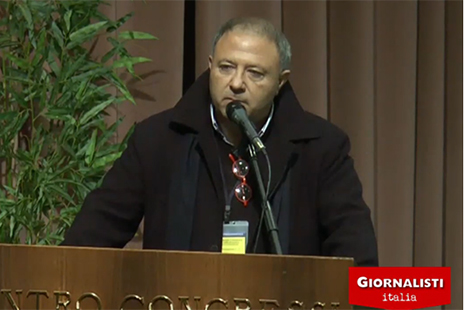 REGGIO CALABRIA, July 17th, 2015. Exactly one year ago, on July 17th, 2014, the reporter for the daily Quotidiano del Sud and collaborator of the ANSA news agency, Michele Albanese has been placed under police protection and forced to move with an armored car after investigators intercepted a conversation in which it was vented an attack of the 'Ndrangheta against him. The Regional Councilor of "Calabria in Rete", Flora Sculco, went to see him. The news was announced by a press release from the Regional Council's press office.
"I went to see him – Sculco reported at the conclusion of the interview – to shake his hand as a sign of respect. It is shocking to see that in Italy members of the press are at risk and under protection. When the role of investigative journalism is being eroded, prophesizing its demise, I would invite everyone to go easy on it. In Calabria we need a free press to give more strength to the fight against the mafia, which sees engaged daily law enforcement agents and the judiciary. I found him very tried because it is clear that a life under police protection causes, for a journalist accustomed to moving without limitations, mental fatigue and maybe even a little discomfort. But from the discussion I had with him, especially on critical aspects and strengths of the port of Gioia Tauro, whose stories he knows quite well since he has been covering them for over thirty years, I perceived in Albanese an extraordinary lucidity of analysis."
Michele Albanian, who has never stopped writing, has drawn attention to "the urgency of Calabria to have a political class that is less concerned about the political organization; but which can deal with the present and the future of the people of Calabria, whose patience has reached its limit. In our areas, where linear cuts policies to welfare schemes have been devastating, touching even pensions, which for years have allowed whole families and many young people to get on with life, are drying up and, in the absence of serious plans for the redevelopment of the port and agribusiness, the chickens are coming home to roost."
"If politics does not want to implode – the journalist added – it must understand so quickly. Focusing on merits, on skills and better planning of public and private resources. A journalist forced to immobility for having called the mafia with its own name, not only highlights the extreme difficulty of breaking news in Calabria, but underlines that there is a reality that national institutions would do well to follow more closely. In Calabria, social emergencies and the invasiveness of criminal organizations are holding back development projects, forcing the best to go away, frustrating the constitutional rights and affecting the freedom of enterprise".
"Here – Sculco agreed with Albanese – Politics is required. And my opinion is that in terms of respect for the law, Politics must do more. Thinking that the day could go by, by continuing to go to Rome, is yet another mistake, when to find a balance it should have as protagonists the institutions and political forces from Calabria, together with entrepreneurs and social forces."(ANSA).
ASP

I contenuti di questo sito, tranne ove espressamente indicato, sono distribuiti con Licenza
Creative Commons Attribuzione 3.0