Defamation bill. OSCE: "Some points are of serious concern"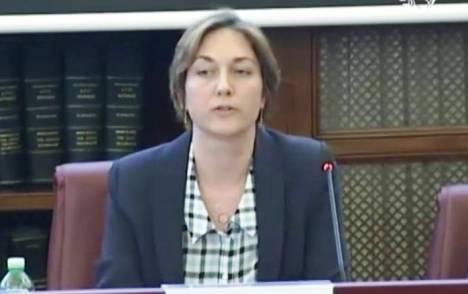 The speech by Ulrike Schmidt, envoy of the Representative on Freedom of the Media of the OSCE at the Ossigeno international conference of July 2nd, 2015 in Rome
The draft law on defamation that will come back to the Senate for a second reading in the coming weeks contains novelties that "hopefully will have a positive impact on the freedom of information", but it also contains parts that are not conducive to freedom of expression and are a source of great concern for the OSCE, Ulrike Schmidt, envoy of the OSCE Representative on Freedom of the Media, Dunja Mijatovic, said while speaking at the international conference on press freedom organized by Ossigeno per l'Informazione on July 2nd, 2015 in the Koch Hall of the Senate. (Listen to the speech in English and Italian).
Ulrike Schmidt identified as one of the presumably positive aspects the replacement of imprisonment with fines, and listed the points of concern by inviting senators "to consider very carefully" some of them when they get back to the bill's examination. Specifically, she asked to decriminalize defamation "by taking into account all that has been added to this debate in other countries" in favor of the waiver to pursue through criminal law those who damages the reputation. Among the reasons for concern, she said, there is also "the amount of the fines, which can have negative effects on media freedom, can feed self-censorship. We also hope that a maximum threshold for compensation for damages be fixed."
"We are concerned – she added – also by the far too long duration of the investigation period, of the trials and cases of defamation. We are concerned about the lack of effective measures to prevent the abuse of complaints and citations for defamation while further rules are introduced for the benefit of those who consider themselves offended. Furthermore, the new law – she said – should establish very clearly what is the purpose of the rules on defamation: restore reputations that have been unfairly harmed and not punish those who are guilty of defamation." Our Office, she recalled, pays great attention to this bill since its early stages. It did so by having it analyzed by an expert on the subject, Boyko Boev, who published his analysis. (Ossigeno has republished the text in Italian and English in an ebook by the title Offended Honor and Oress Freedom, Onore offeso e libertà di stampa).
Dunja Mijatovic's envoy said that the OSCE considers freedom of the media and freedom of expression as fundamental human rights, essential elements in any democratic civil society. "Defamation and damage to the reputation are very serious questions – she said – and we need to provide for reparations, but it must be done with a balance between the right to privacy and freedom of expression that is very delicate indeed. We must ensure a free public debate, in which anyone can participate without fear; a debate as broad as possible. Therefore, only very, very few expressions should be criminalized: among these incitements to violence, the words and images that seek to shock and to jeopardize social peace, the expressions that insult and offend the dignity of others. These expressions must be censored ".
"We must consider that the rules that punish defamation are often exploited, abused for other purposes. Our Vienna office – she said – has followed events of this kind that involved Italian journalists and worked to raise public awareness and harden the resolve of Italian authorities. It needs to be taken into account, she continued, that there was a sharp increase in complaints for defamation and that many of these complaints are then retracted or filed. There is also the malpractice of using defamation charges to extort money from journalists. There is the malpractice to sue without even having asked for a correction".
Ulrike Schmidt said that many allegations of violations of reputation come from public figures who do not accept, as they should, the fact that their public role involves a restriction to their right to privacy.
About the decriminalization of defamation, she stressed, the OSCE is leading an international incessant campaign. "According to a recent research by the IPI (International Press Institute) in Vienna, in the past five years, five EU countries have decriminalized libel and another five have made great strides. But in most States, defamation is still not decriminalized and only in seven EU countries the law includes provisions to protect journalists. May Italy not lose the opportunity to modernize its rules in defense of freedom of expression and the media." It should also take into account the tools and practices already in use in other countries to settle disputes between newspapers and readers without resorting to the courts, with the self-regulation of the media and other mechanisms that fall within the ethics of journalism.
Ulrike Schmidt also pointed to the "great cooperation" of Ossigeno per l'Informazione Office with the OSCE in Vienna. "With a very serious approach, Ossigeno he has highlighted serious threats against Italian journalists and made us better understand the situation of information in Italy."
RDM-ASP

I contenuti di questo sito, tranne ove espressamente indicato, sono distribuiti con Licenza
Creative Commons Attribuzione 3.0