"Remove from the walls of Milan the threats to journalists," Lombard Reporters ask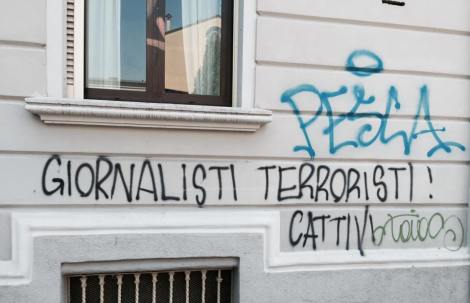 On top of writings that insult the whole class, there are actual threats with name and surname. Recently targeted two journalists of the Corriere della Sera
By Ombretta T. Rinieri – MILAN – The Group of Lombard Reporter appealed to the mayor of Milan, Giuliano Pisapia, to the prefect, Francesco Paolo Tronca, and the superintendent, Luigi Savina, to clear from the walls of Milan wall writings containing insults and threats against journalists who reported on their newspapers about delicate news episodes. Some of these writings have already been cleared, but many others have not been touched, when they keep repeating insults and threats.
The offensive writings against journalists have been appearing for years on the walls of Milan. Sometimes they appear only once and for a few days, as a spot related to a momentary reaction, sometimes the writings are repeated over time, with more or less insistence, depending on the timeliness of the topics more or less hot treated by reporters.
The writings of the generic type, such as "Infamous Journalists", "Journalists servants of power", tend to delegitimize the entire profession. They are a bother, but do not represent a real threat. The writings of concern are those which target a single journalist or group of journalists, that are marked out by name or with other elements that make them easily identifiable. These are actual acts of intimidation, threats of reprisals if they continue to deal with certain issues. Some instigate more or less indirectly to "punish" the reporter for what has been already written.
This year heavy episodes of this kind concerned in particular the chroniclers of Corriere della Sera Gianni Santucci and Andrea Galli, who have written articles on the eviction of illegal occupants from the Aler houses and from municipal buildings in the Ticinese, Lorenteggio and Giambellino areas. Some writings against them still stand out on the buildings, others have been partly deleted recently. It happened in July 2015 in via Paoli.
Why did Lombard reporters reacted right now? "In June 2015 we renewed the leaders of the Group and – the new president Cesare Giuzzi said – when we have taken the responsibility to manage it, we thought to begin by asking the institutions for a clear sign to show that Milan is willing to address the problems. That it can start to prove it by erasing the writings against journalists. We must not forget history: in this city journalists were killed or shot in the legs. In Milan, as we pointed out in our appeal, on May 28th, 1980 Walter Tobagi was killed. We wrote to the mayor and to the prefect and to the superintendent, who deal with safety issues. The commissioner has already taken the first steps. With two inspectors of the Digos Unit we did a survey of the writings. Some were already in their possession, because some time ago some policemen without too much emphasis had lodged a complaint against unknowns".
OTR-ASP

I contenuti di questo sito, tranne ove espressamente indicato, sono distribuiti con Licenza
Creative Commons Attribuzione 3.0