Renate Schroeder, What EFJ do to protect journalists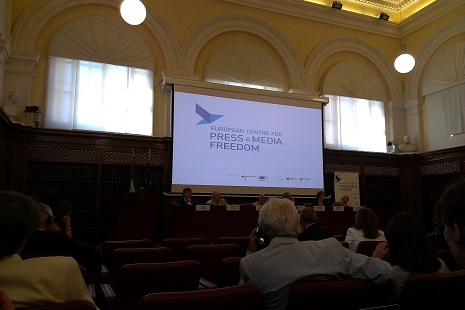 Renate Schroeder, European Federation of Journalists Director in Bruxelles, was between the speakers of the international conference of July 2, 2015 in Rome about the protection of journalists, promoted By Ossigeno. As she wes not able to reach Roma, she sent the written text of her speach
First of all my compliments for the organisation of this workshop in the heart of Rome, in the Senate and its complicated decision making power. I am talking here on behalf of the European Federation of Journalists representing 60 unions and associations in 41 European countries but also on behalf of our umbrella organisation the IFJ, which is doing the bulk of safety work around the world including in Europe.
I will concentrate on three themes:
1. Platform to promote the protection of journalism and safety of journalists, launched by the Council of Europe this April; few words on mapping
2. Supporting journalists under attack: IFJ Safety Fund, Impunity campaign
3. Training; Digital safety, (physical done by IFJ) digital) training; how to protect sources and fight mass surveillance;
About 1. CoE Platform and mapping. Following months of preparation and the signing of the Memorandum of Understanding on 4 December 2014 with the EFJ, IFJ, the Association of European Journalists, Reporters without borders and Article 19, the Council of Europe has launched on 2nd April this year an online platform to promote the protection of journalism and safety of journalists.
The aim of this platform is to: – better address threats and violence against media professionals; – foster early warning mechanisms and response capacity within the Council of Europe member states; – with the long-term goal to improve the protection of journalists by constant awareness raising and knocking at governments and other players doors. 2. Whenever there is a physical attack on journalists or legal threat to media freedom, such violations will be recorded and submitted by the partner organisations (EFJ, IFJ, RSF, AEJ and Article 19).
Up to today, we have recorded 60 cases (of which 49 come from the EFJ). Following the submission of the case, an alert level will be issued on the case depending on the level of violations. If you or your fellow colleagues experience any of the following threats and violations, please report it to us immediately at efj@ifj.org.
Criteria: – Attacks on physical integrity of journalists (16 cases) – Harassment of journalists (Harassment of journalists and other media institutions or actors, threats to journalists' privacy, attack to property, loss of employment, psychological abuse, bullying/cyberbullying)-7 – Impunity (failures to investigate and prosecute crimes against journalists and other media actors) 8 cases – Threats to journalists' sources – Acts having chilling effects on media freedom 26 cases, said a majority – Judicial intimidation (opportunistic or abusive use of defamation, antiterrorism laws, national security, hooliganism or anti-extremism laws) – Political intimidation (including hate speech) – Legal framework limiting media freedom – Other (abusive or unjustified blocking of media-related websites or social media platforms, censorship, hacking, etc.) 3 17 cases from Turkey; 8 Azerbaijan, 8 Russia but also 4 from France, 2 from Spain, 2 from Macedonia, 1 Slovenia, 1 Croatia, 1 Denmark, 1 Belgium, 1 Luxembourg one Bulgaria. We have received responses from Denmark, Slovenia, France, Azerbaijan and Luxembourg (though never admitting and violations but taking time to justify). Governments from Western Europe are surprised that they also receive letters and not happy about this. But as General Secretary of the CoE Jagland said at a press conference in Brussels: "I am pleased to see some governments, such as France, Denmark or Slovenia, responding to alerts posted on the Platform.
It is time now to go beyond that and to establish a dialogue, where possible, in order to improve the situation of journalists on the ground. We all agree: words must lead to action!"
3. Apart from such serious cases elaborated above, there are many situations where journalists are no longer able to perform their work due to the deteriorating working conditions. And we address this issue as well and submit to the platform cases related with precarious working conditions of journalists and the concentration of media ownership to raise awareness of the many restrictions facing journalists.
The platform is NOT a monitoring exercise as such as we have in another project on mapping. It is a tool for enhancing response capacity by Council of Europe bodies and for improving cooperation and coordination with other international organisations. The EFJ believes that the exercise is worthwhile; it congratulates the CoE to the very rapid response. We also appreciate the follow-up by the OSCE media epresentative; however it is all based on voluntary input and this does take time, and we presume increasingly so as this mechanism is getting known by our members and beyond.
Mapping Media Freedom project: The EFJ, Index on Censorship and Reporters without Borders are mapping the state of media freedom in Europe. It is a project supported for a year by the European Commission based on crowd-sourcing. We ask our affiliates to contribute to the reporting. With our affiliates' participation, we are collecting violations, threats and limitations that European media professionals, bloggers and so-called citizen journalists face.
We are also collecting feedback on what journalists need as support in such situations. This mapping project covers European Union member states, candidates and potential candidates for entry. In 2014, more than 750 violations have been reported, including threats of violence, harassment, intimidation and legal penalties.
Recording and mapping violations to media freedom is critical to raising awareness and strengthening solidarity networks for journalists across Europe.
The EFJ is happy to bring the contribution of its members to unveil threats and campaign for change."
2. Supporting journalists under attack: IFJ Safety Fund, Killed List, Impunity campaign You may know that the IFJ Journalists Safety Fund was established in January 1992. The Safety Fund established by journalists for journalists is 4 an integral part of the IFJ Safety Programmes which include casework, protests, and campaigns, provision of information and production of various publications.
The Safety Fund provides immediate financial relief to a particular journalist, such as paying hospital bills of injured journalists, supported exiled journalists and contributed to legal costs in court actions to defend journalists in countries where often poverty and social conflict make it impossible for them to have proper legal representation.
Last year in Europe the Safety Fund supported journalists in Macedonia and the Ukraine. The fund is for members and non-members, and I believe it needs to be better promoted and known of.
The IFJ monitors journalist killed every year, up to now in Europe: 10 France (Charlie Hebdo), 1 Poland and two Ukraine. More than ever before, journalists need to guard against those who seek to manipulate media. At the same time there is an unprecedented increase of surveillance including against journalist and their sources. We do not want our journalists to work under police protection, but we need authorities to provide protection and in particular safety in conflict zones. The death tolls from Ukraine and Russia last year show that the issue has hit Europe. And in this regard we do appreciate the initiatives taken by the EC, the OSCE and coE to ensure better security of journalists.
The IFJ started last year the End Impunity campaign 2014 urging the authorities of the countries with the highest death tolls of journalists to investigate these killings and bring their perpetrators to justice. 3. Training; Digital safety, (physical and digital) training; how to protect sources; safety In the beginning of this year, the EFJ organised with the European Trade union institute a 4 day workshop on digital safety, as journalists face an increasing challenge to secure their communications in a digital world. How can journalists secure their communications and protect their sources? Run by a digital security expert twenty-one journalists and union officers were given a hand-on approach to protect their communications in a fastpace digital newsroom. Journalists were also taught how to bypass internet censorship and secure their online communications.
The EFJ has applied for a second workshop of this kind given the great interest. 5 http://europeanjournalists.org/blog/2015/01/22/cyber-security-trainingfor-journalists/ Training is crucial and we would appreciate a better coordination in this field and accessible training to the largest possible number of journalists. Conclusions
There has been a visible increase in campaigns against impunity, for press freedom, of monitoring of violations (it seems also of violations on media freedom and journalist' rights) in recent years, not least due to the different projects, also supported by the European Commission, hopefully the work being done in Leipniz by the just founded European Centre for Press & Media Freedom, and beyond. We do need to still better work together among media organisations, journalists- and employers' organisations, watch-dogs and other civil society NGOs.
We need to create solidarity beyond borders, cultural and political affiliates and beyond purely commercial interests. We hope and believe this seminar is another step into this direction.
Renate Schroeder, EFJ Director
ASP

I contenuti di questo sito, tranne ove espressamente indicato, sono distribuiti con Licenza
Creative Commons Attribuzione 3.0