Facebook. Satire against the Casamonica. Comedian drowned with insults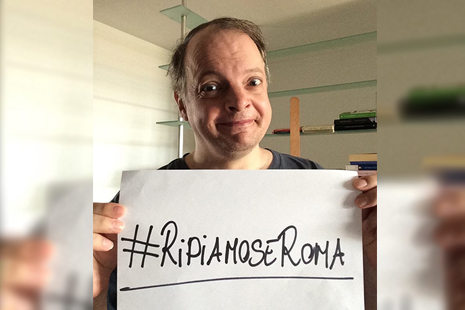 Gabriele Pellegrini, alias Dado, made a parody song of the funeral of the head of the family. Solidarity and appeal to participate to his show
More threatening reactions against those who emphasize doubious or questionable aspects of the funeral-show of Vittorio Casamonica, held in Rome on August 20, 2015, criticized for its value as a message of defiance for the next court hearing in which some members of the same family accused of mafia will be brought to trial.
After the threats against the journalists of the television program "Agorà" broadcast on RAI and after the attack on the journalist from Fanpage, now it was the turn of the comedian Gabriele Pellegrini, alias Dado, drowned with insults, profanity and threats on his Facebook profile on which he had posted the video with his musical parody of the funeral, to the tune of the song by Fiordalisto "Non voglio mica la luna". The supporters of the Casamonica clan did not appreciate it.
Dado released on the daily La Repubblica an ironic commentary, to say that he is not afraid of these threats: "The messages on the web are like the Baci Perugina. Would feel afraid if you opened one where the message was 'fuck you'?"
"I would like a flaming coffin, outside the church my giant face, and a band that plays the notes of the Godfather King of Rome", recites a line of the song.
Some of the posts: "You're just a poor mentally ill psychopath! They should lock you up inside a shitty sewer, because you are only shit!!!!!!!","Dado, when you'll die I'll come and shit over your coffin you piece of shit"," Aaa Dado, you're a real jackal laughing at misfortunes and remember god sees and provides you and all those fucking racists that support you damn fool", "You shits can do everything and we can not make a funeral as we fucking want. Well done."
On Friday, September 4 the Roman comedian will make the final performance of his show in the summer festival "All'Ombra del Colosseo". The slogan of the evening will be "Ripijamose Roma" (in dialect, "Let's take back Rome").
DB

I contenuti di questo sito, tranne ove espressamente indicato, sono distribuiti con Licenza
Creative Commons Attribuzione 3.0