Mafia and Information. To Mattarella the first copy of the Ossigeno Research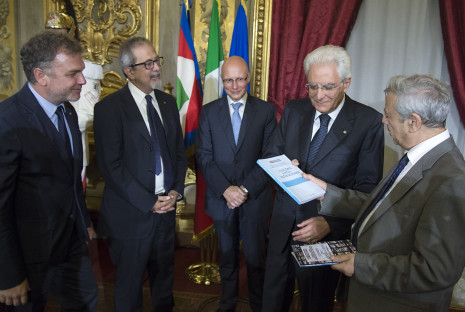 Analysis, data, opinions and ten proposals for the protection of journalists who handle inconvenient news in a study for the Parliamentary Anti-Mafia Commission
"Thanks, I'll read it very carefully. You journalists have an important task in all respects: civil, professional and social; you too have your duties, your ethics", the President of the Republic, Sergio Mattarella, said during the ceremony of the Ventaglio (fan), which was held on Thursday, July 30th at the Quirinale, during which Alberto Spampinato and Giuseppe F. Mennella, respectively director and secretary of Ossigeno per l'Informazione, delivered to him a preview copy of the research entitled The Mafia-Information Antithesis.
The study produced by Ossigeno was carried out for the Parliamentary Anti-Mafia Commission, with respect to the investigation on "Mafia, journalists and media world", managed by a committee that is finishing the works in these days by discussing the final report of the Vice President Claudio Fava. The text will be made public after approval of the final document.
The research explores the causes of the phenomenon of acts of intimidation against journalists, it provides specific data, it gives an overview of opinions on the most contentious issues. The research is held in a legal framework of the phenomenon and indicates clear gaps in the law that make the status of those who collect and disseminate information of public interest weak and insecure. Also, it makes a number of proposals to make the work of reporters less risky.
Following is a summary of the main proposals: create a single national hotspot through which to denounce threats against journalists; codify the criteria for allocation of police protecion; define a shared code of conduct by editors and publishers on the additional precautions to be given on top of those supplied by law enforcement agencies and commitment to give visibility to the threat victims; develop team journalism to reduce the personal risk of reporters who follow the most sensitive events; greater transparency on the ownership of newspapers; special investigation on information in Rome and in the Lazio region.
The active monitoring carried out by Ossigeno per l'Informazione begun in 2006 has recorded more than 2,300 journalists and bloggers hit by acts of intimidation and threats because of their work.
"On top of breaking the silence on such a high number of threats – Spampinato said – it is necessary to adopt specific protection measures for journalists, police investigations should be strengthened, identify and punish those who threaten reporters, update archaic laws such as the one that punishes defamation with prison. All these measures, among other things, are requested of Italy from recent resolutions of the United Nations, from demanding documents from the Council of Europe and from the daily case law of the European Court of Human Rights."
ASP

I contenuti di questo sito, tranne ove espressamente indicato, sono distribuiti con Licenza
Creative Commons Attribuzione 3.0