A refuge for journalists under threat in Leipzig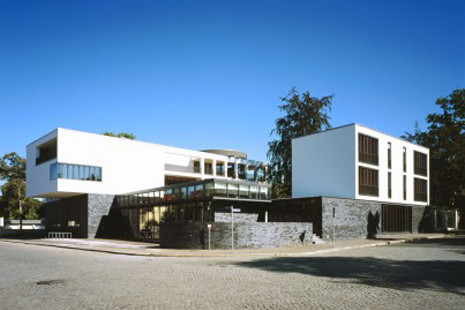 ECPMF launches its Journalists-in-Residence-Programme. It provides also schoularships, health insurances, and a workplace in Germany
The European Centre for Press and Media Freedom (ECPMF) based in Leipzig launched 15th October 2015 its Journalists-in-Residence-Programme. It provides a sanctuary, a scholarship, health insurance and a workplace for journalists who are threatened in their home country or work under pressure.
European countries, states the ECPMF, are supposed to have a free press. Yet often journalists are confronted suddenly with real and serious dangers: threats, arrest, prison, smashed cameras, confiscated computers, beatings, broken bones and, in the worst cases, murder. More often freedom of the press is restricted by more subtle means: economic pressure and inadequate legislation, endless lawsuits against journalists, surveillance of editorial departments, denial of visas, and suppression of information on certain topics within editorial departments.
"Time and time again, when journalists investigate sensitive issues, they make themselves vulnerable to those in power. The list of European journalists who were or are under threat and had their fights with the powerful is long and constantly growing: Anna Politkovskaya, Roberto Saviano, Hans-Martin Tillack, Oleg Kashin, Dušan Miljuš, Khadija Ismajilowa", says Lutz Muekke, project manager of the ECPMF.
"Sometimes the only option is to leave their country for a while and to go out of the line of fire. That is the only possibility to continue their work and to save them from being imprisoned. Our programme is able to relief threatened journalists from a permanent state of anxiety and attract public attention to their cases", Lutz Muekke continues.
In Leipzig – a historic location in the fight for press and media freedom – the journalists can stay for between six and twelve months, depending on the individual case. All travel and visa-costs are covered by the ECPMF, as well as private health care, the accommodation and a monthly scholarship of 1000 Euro.
Journalists who want to attend the programme must follow certain criteria, e.g. working as an investigative journalist for at least five years and proof that they are under pressure. Furthermore they should not be member of a political movement and must be able to return to their country to continue their work for press and media freedom at home, if appropriate.
The applications will be assessed by the ECPMF international boards, consisting of experienced journalists, media researchers, trades unionists and lawyers, among others from the European Federation of Journalists, SCOOP, Axel Springer SE and Media Legal Defence Centre.
To design the programme the ECPMF consulted activists of experienced organisations like the International City of Refugee Network (ICORN) and the Hamburg Foundation for Politically Persecuted People. Both NGOs have been involved in residence and refugee projects for decades and gave plenty of worthwhile advice.
"Such programmes are not easy to run and the challenges are quite diverse, especially on the personal level. You have to care for people, who are often traumatized and face an uncertain future. Additionally most of them do not know the language of the host country. So there is a lot of organisation necessary, daily business and formal matters", stated Peter Ripken, Chair of the Board of ICORN, the network that has more than 50 member cities all over Europe. "We are happy about all new initiatives and co-ordinating our work, because a strong network is an additional asset for people in jeopardy", Ripken continues.
Please forward this information to colleagues and organisations who could participate in and benefit from the Journalists in Residence Programme.
For further information on conditions and the application process please click here
ASP

I contenuti di questo sito, tranne ove espressamente indicato, sono distribuiti con Licenza
Creative Commons Attribuzione 3.0
/