During the "Don't Touch" investigation, Latina fans intimidated two reporters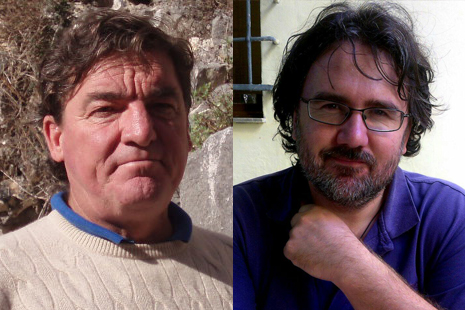 They raised a banner with insults against the reporters of the Manifesto who wrote about the interests and the career of the owner Pasquale Maietta
The owner of the Latina Football team and its fans of the Curva Nord ended with heavy accusations in the judicial investigation "Don't Touch". To the reporters of the newspaper Il Manifesto Marco Omizzolo and Roberto Lessio, publicly ridiculed by the fans in the Curva Nord with a banner with their names and the word "commie shits without dignity", hanging out of the stadium on June 28, 2014, it was just a small revenge.
A few days before they had reconstructed in an article the rapid rise of the Latina Football club, who had narrowly missed out on the qualification in the Serie A, and the political career of Pasquale Maietta, president of the team, his interests, the great speculation that he was preparing around plans to build a new stadium. That offensive banner was an obvious intimidating reaction. From that moment, Omizzolo explained "it has been a continuous intimidation against us, they pointed to us as public enemy number one."
The name of Pasquale Maietta, MP of the political group Fratelli d'Italia and treasurer of the group in the House, would appear among the suspects for threats in competition with Costantino Di Silvio, aka "Cha Cha", one of 24 people arrested on October 12, 2015 as part of the same investigation for the offenses of extortion, usury, drug dealing, handling and possession of firearms, threats and injuries.
Furthermore, the investigation of the Prosecutor's Office argues that "the headquarters of the Latina Football fans, the 'Curva Nord', would be a place of 'particular offensiveness' of a social character because within it happened, according to investigators, the trafficking and consumption of cocaine", as the two reporters wrote in the article Gli affari neri del Latina spunta un Fratello d'Italia (the dirty business of the Latina, a Brother of Italy appears), published on October 15, 2015 in Il Manifesto.
FD DB ASP

I contenuti di questo sito, tranne ove espressamente indicato, sono distribuiti con Licenza
Creative Commons Attribuzione 3.0