Marche. Damaged cars of two sports journalists after games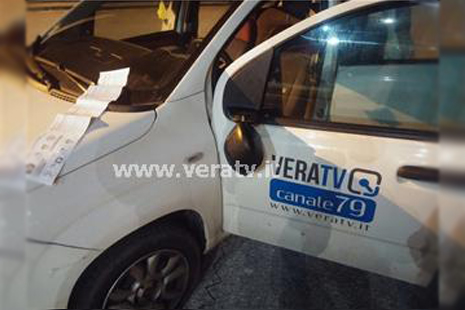 Tires slashed and broken mirror of the machine of VeraTV. Ripped apart that of laprovinciadifermo.com. Sigim, Gcm and Ussi Marche condemn the attack
Damaged the cars of two sports journalists in the space of three days. It happened in Montegranaro, in the province of Fermo, on 25 and 28 October 2015 to the cars of, respectively, Raffaele Vitali, chief editor of laprovinciadifermo.com, and Daniele Bolletini, journalist for VeraTv. Outside the Palasport, unknown people have scratched the door of Vitali's car, who had followed the basketball game of the town team. On the other hand, the mirror was broken and and a tire slashed to the car of the broadcaster VeraTv: Bolletini, who reported the incident, found it in these conditions at the end of the match of the Italy Cup Folgore Veregra – Sambenedettese. In a joint statement, the Union of Sport Journalists of Marche, the Group of Reporters from Marche and the Italian Sports Press Union of Marche, strongly condemned the incident. Some journalists and the administration of Montegranaro have expressed solidarity to Daniele Bolletini and Raffaele Vitali.
THE PRECEDENTS – On September 14, 2015 VeraTv had already been the victim of a serious episode of intolerance reported by Ossigeno. A group of hooligans of the Sambenedettese had prevented the journalist from Ascoli, Giuseppe Ercoli, to reach the television studio to conduct a program on the Serie B football league.
THE EPISODES – On October 25, 2015 after a basketball game of the Poderosa, the team town of Montegranaro, Raffaele Vitali's car, chief editor of provinciadifermo.com, parked outside the indoor stadium of the town in the Marche regione , was scratched, probably by crawling a key for the entire length of the car. Vitali has been following for a long time the sports news of the town from the province of Fermo.
Three days later, on October 28, at the end of the Italy Cup match Folgore Veregra – Sambenedettese, the journalist Daniele Bolletini, collaborator for VeraTV, found damaged the car of the television station that he had parked in a public area, just outside the stadium in Montegranaro (in the province of Fermo). Unidentified persons broke the mirror and pierced a tire of the car, a white Fiat Panda, new model, recognizable as belonging to the broadcaster by the clearly visible logo. The fact was reported to the Police.
SOLIDARITY – "Yet other acts of vandalism against journalists in the Marche. To be able to do your job – reads the joint statement by the Journalists Union of Marche, the Group of Reporters from Marche and the Italian Sports Press Union of Marche – can sometimes be costly. No physical assault, but damage to the cars of two colleagues, within a few days from each other, in the province of Fermo in Montegranaro. Sigim, Group of reporters from Marche and Marche Italian sports press Union condemn the incidents reported and express full solidarity with our colleagues, 'guilty' only of performring their job of informing readers and viewers. "
Sigim, Gcm and Ussi Marche have also called on "the sports clubs of the Piceno and Fermo regions, epicenter of repeated episodes despicable in the context of sporting events, to raise the level of attention and to report to the authorities any violent behavior of their fans."
DB

I contenuti di questo sito, tranne ove espressamente indicato, sono distribuiti con Licenza
Creative Commons Attribuzione 3.0