Vatileaks 2. The Vatican investigates on journalists Nuzzi and Fittipaldi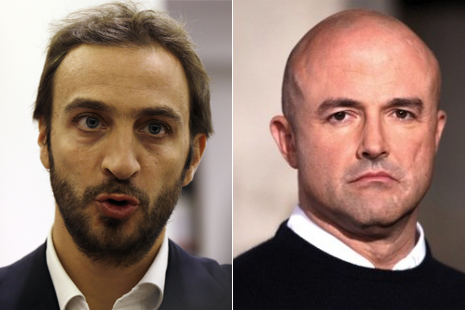 For the offense of conspiring to disclose reserved information and documents. The Press Association of Rome and the MP Michele Anzaldi (PD) defend them
"To disseminate news and confidential documents useful to the community is one of the duties of a good journalist," the Roman Press Association said, commenting on the decisions by the investigating authorities of the Vatican who are looking into the responsibility of the journalists Emiliano Fittipaldi and Gianluigi Nuzzi, authors of new inquiry books. The two journalists are under investigation by the authorities of the Holy See for the crime of dissemination of news and confidential documents, as prescribed by law number IX of the State of the Vatican City, of July 13, 2013 (Article 116 bis of the Criminal Code).
Fittipaldi commented: "I am a journalist, and when a reporter has some news and verifies it, he must publish it". The Roman Press Association and the MP Michele Anzaldi (Democratic Party) defend the two journalists.
The Vatican spokesman, Father Federico Lombardi, announced that "elements proving the fact of participating in the offense by the two journalists, which therefore are now under investigation", have been acquired. Investigators are allegedly also examining "other positions of people who for reasons of office may have cooperated in the acquisition of the confidential documents in question."
As part of the same investigation, on October 31, 2015 Mgr. Vallejo Balda and Francesca Chaouqui, were first arrested and then released from custody for their cooperation.
THE REACTIONS
The Roman Press Association intervened in defence of the two journalists. "To disseminate news and confidential documents useful to the community is one of the duties of a good journalist. As noted by Fittipaldi in an interview with Il Giornale Radio Rai, in Italy there is Article 21 of the Constitution. We call on our authorities to keep it well in mind when they will receive the papers and letters of request from the Vatican."
The MP Michele Anzaldi of the Democratic Party said: "Freedom of the press must be protected always. To read that the journalists Fittipaldi and Nuzzi would be investigated by Vatican authorities, thus by a foreign state, for publishing documents that someone wanted them to leave the Vatican gives way to perplexity. The Vatican regulations are obviously not the same as our system. It would be unusual, however, if Nuzzi and Fittipaldi were to be accused of having simply did their jobs well. There is no mention, indeed, of the leak of judicial acts but of internal documentation from a Vatican body. It being understood that the authorities will take the next steps, some questions are legitimate. On this I will ask my colleagues in the Judiciary Committee to carry out some in depth investigations."
DB

I contenuti di questo sito, tranne ove espressamente indicato, sono distribuiti con Licenza
Creative Commons Attribuzione 3.0