Jane Whyatt: Tackling "censorship in disguise"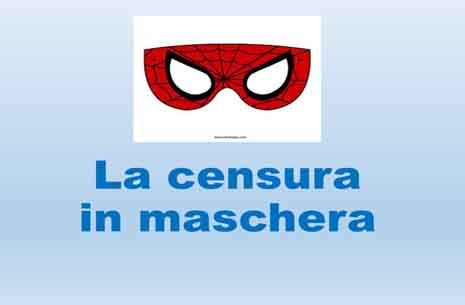 The author is project manager at the European Centre for Press and Media Freedom in Leipzig and former senior lecturer at the University of Westminster
By Jane Whyatt – From ecpmf. eu web site – It is assumed by many that journalists in Europe are not censored and the existence of a free press is a matter of fact in democracies, where no official censoring institutions exist. But there are sneaky methods of control – besides open censorship – that creep in to daily work in every newsroom and affect freelancers, too.
Unmasking this hidden censorship is the aim of a new training course by ECPMF's Rome-based partner Ossigeno per l'informazione. It is the brainchild of Ossigeno's founder Alberto Spampinato:
"We are used to thinking of censorship as the cancellation or abolition of unwelcome news made by the police in authoritarian regimes, where freedom of expression is banned. Actually this is only the classic kind of censorship", he states.
Intimidation, threats, attacks, judicial procedures, legal loopholes, and especially specious defamation charges make free reporting difficult.
EU Commissioner for Human Rights Nils Muiznieks has called this the 'censorship in disguise', as those methods are not that open but can only be seen when looking under the surface of allegedly free reporting.
Spampinato himself will be training on the course, giving an Italian perspective. He is joined by ECPMF's Jane Whyatt, a former senior lecturer at the University of Westminster.
She comments:
"I was first aware of censorship during the Falklands/Malvinas conflict when I was working as a radio news reporter. The reports would appear on the news wires with sentences already blacked out by the Ministry of Defence censors. Now the censorship is more subtle and insidious. We must be on our guard".
Whyatt will bring a European perspective to the training course, with practical examples from Greece, Denmark, UK and Germany. In addition, the Spanish journalism professor Mario Garcia di Castre of King Juan Carlos University, Madrid will bring more examples from his own research.
Jane Whyatt is the Project Manager, responsible for commissioning, creating and curating web content, setting up fact-finding missions to respond to media freedom violations, organising conferences and co-ordinating relationships with the Consortium Partners and the EU.

I contenuti di questo sito, tranne ove espressamente indicato, sono distribuiti con Licenza
Creative Commons Attribuzione 3.0
/