Mafia. The publisher of "La Sicilia" Mario Ciancio will not be prosecute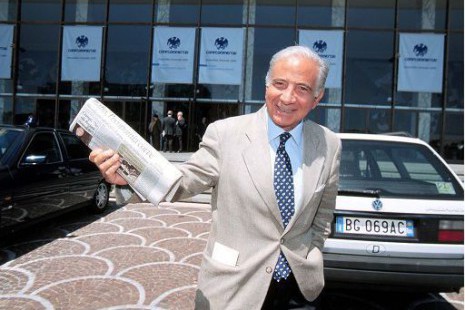 There is no sufficient evidence, the trial judge decided in Catania, after an in-depth investigation. Motivations are expected
The Judge for the Preliminary Hearing of Catania, Gaetana Bernabo Distefano has decided that there are no conditions to proceed to trial against the journalist Mario Ciancio Sanfilippo, 83 years old, editor and publisher of the newspaper La Sicilia, accused of collusion with the mafia. In the preliminary hearing of 21 December 2015, the trial judge ruled that there are no sufficient grounds to conduct a trial. The motivation will be filed within ninety days. The Prosecutor's Office reserves the right to appeal the judgment to the Supreme Court after reading the reasons.
The hearing was marked by the actions of the defense, lawyers Carmelo Peluso, of the bar of Catania, and Francesco Colotti, of the Giulia Bongiorno legal study. The prosecutor of Catania had asked months ago, the closure of the file, but the examining magistrate Luigi Barone had ordered further investigations. On 1 April
2015 the prosecutor had then made a request for indictment. In the notice of conclusion of the investigation, the public prosecutor of Catania stressed the following circumstances: "the debate is based on the reconstruction of a series of events that began in the '70s and continue up until recent times" and "concern participation in business ventures in which powerful interests involving the organization Cosa Nostra have surfaced", in particular revolving around a shopping center.
In the trial the plaintiffs were the Order of Journalists of Sicily (lawyer Dario Pastore), Dario and Gerlando Montana, brothers of the Commissioner of the State Police Beppe Montana, killed by the Mafia (along with the criminal lawyer Goffredo D'Antona) and Sos Impresa, anti-racket association by Confesercenti, assisted by Fausto Maria Amato.
ASP

I contenuti di questo sito, tranne ove espressamente indicato, sono distribuiti con Licenza
Creative Commons Attribuzione 3.0