Ossigeno Fnsi Odg: Journalists are not targets, respect Lirio Abbate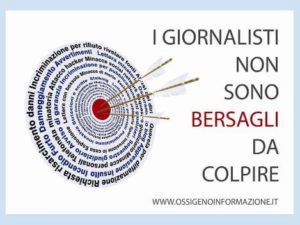 A joint statement defines as unacceptable the attacks on the journalist during some public hearings for the Mafia trials in Rome
This document was signed on January 30th, 2016 by Ossigeno per l'Informazione, FNSI and Order of Journalists:
Journalists are not targets to be hit with insinuations, mockery, free and instrumental accusations. They are professionals, who perform a delicate task of public interest and therefore deserve respect and protection. Yet the instrumental attacks on journalists, some very serious and conditioning, are frequent, as shown by the impressive data gathered by Ossigeno per l'Informazione: 528 acts of intimidation in 2015 and another 32 in the first month of 2016. This phenomenon is worrying and can not be met with indifference. And it is truly alarming what happened in Rome on 29 January and in the previous days.
During the hearings in the "Capital Mafia" trial and other mafia trials, the counsel for one of the main accused of Mafia association has deliberately and repeatedly used abusive language and gratuitous illations against the journalist Lirio Abbate, who, among other things, does not have any role within said case. The lawyer claims the right to insult him, to question sarcastically his correctness, to mock his universally recognized professional merits. This is unacceptable.
Criticisms are lawful, but no one, for any reason whatsoever, can be disrespectful to those who do their jobs well. Lirio Abbate was the first to publicly make known the facts, even before the judiciary did, that describe the picture of the criminal power web in the capital, as well as some facts surfaced during the trials that strive to determine faults and responsibilities. This is a merit, not a fault. As is the duty of every journalist, he has gathered true information, which was not evident and which have not been denied. He did it in the public interest, with skill and personal risk, exercising the rights of the press and of criticism enshrined in the Constitution. He deserves the awards and the honors that have been bestowed upon him. He does not deserve to be publicly ridiculed, mocked, intrumentally abused and intimidated.
We therefore call attention of the institutions and of the constitutional bodies on the attacks that are directed against him and we appeal to the President of the Court of Rome, to the Prosecutor of the Republic, the President of the Bar Association so as to work their authoritative influence towards preventing that within these trials the difficult task of this brave journalist and others who, like him, provide elements of knowledge for citizens on events of clear public interest, is not undermined. We invite the parties involved in the proceedings to respect and protect these journalists and all those who, like them, seek the truth and disseminate information in the citizens' interest.
Freedom of information is a fundamental right. The right of expression is no less important than the right of to defend oneself. It must be protected with the same care and attention. We will atttest these beliefs by attending to the upcoming hearings of the "Capital Mafia" trial.
ASP

I contenuti di questo sito, tranne ove espressamente indicato, sono distribuiti con Licenza
Creative Commons Attribuzione 3.0