Threatened journalists. Thanks to the Minister Alfano who has opened one eye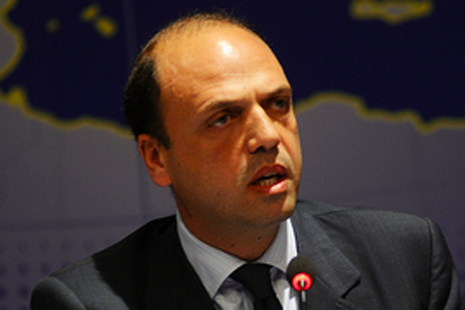 Positive statements in Naples, but not enough. Ossigeno invites him to look at the whole phenomenon and say something on the threats against Lirio Abbate
"It is important that after so much neglect the Italian government has begun to admit that, in Italy, acts of intimidation and threats against journalists are a serious problem, and not just for newspapers and journalists, not just because they prevent freedom of information, but because they undermine democracy."
The Interior Minister Angelino Alfano said so on February 4th, after participating in Naples to a meeting of the Committee for Public order and safety.
"We know how the freedom of the press is the lung of modern democracies, and that where there is no democracy, there is no freedom of the press and vice versa", Alfano commented.
Right. Well said. Therefore it is necessary to ensure greater protection to those threatened journalists. Thank you, Minister Alfano, for having opened one eye on this bleeding wound, and having seen some of the threatened journalists and some of their problems. Now I hope that the Minister will open wide both eyes and see that the victims of these attacks are many more, are in the thousands, some episodes are of enormous gravity and which require his involvement. It is possible to read the list of names published by Ossigeno, the most recent news and suggestions made by our observatory and taken up in large part by the Parliamentary Anti-Mafia Commission. Some proposals are concerned specifically with the Minister Alfano and his ministry.
There is also an issue that would require his intervention with the utmost urgency, as noted on Friday, February 7 by the Commissioner for Human Rights of the Council of Europe, Nils Muiznieks, speaking of the recent slanderous attack and incitement to violence, unleashed within our courtrooms, against the journalist Lirio Abbate, an episode reported not only by Ossigeno, but by major newspapers and by the early warning platform of the Council of Europe too. In this platform, it is classified as an attack of the utmost gravity. The Italian authorities must respond to threats of this kind with concrete actions and even with public declarations of solidarity with the journalist threatened. Muiznieks showed his astonishment (our own same astonishment) for the fact that – until then (I add, until today Monday, February 8th) – as yet no public personality, no authority had declared solidarity with Lirio Abbate, except for the Senate President Pietro Grasso. No politician, no member of government. None of the authorities and institutions directly called into question by public appeal launched jointly by Ossigeno, FNSI, Order of Journalists did so. The Commissioner for Human Rights reports this silence and asks for it to be broken, because this silence creates isolation, and weighs down as much as the threats themselves. Who wants to break it?
ASP

I contenuti di questo sito, tranne ove espressamente indicato, sono distribuiti con Licenza
Creative Commons Attribuzione 3.0