Messina. Posted offensive flyers against journalists all over the city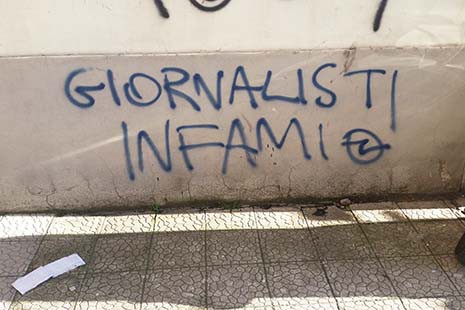 They were found on 12 and 13 March 2016. In one there is a reference to the aggression against Bevacqua and Silipigni. Condemnation from the Order of Journalists of Sicily. The Prefect intervened
"A journalism that is vulgar and infamous that demonizes the just and sanctifies the bad": this is what the Anonimi Ribelli (Anonymous Rebels), wrote on the evening of March 12, 2016 on a flyer they signed, which was found posted near the Town Hall of Messina. Two copies of a second flyer, signed "floating mines in need of re-education" which discredits the work of journalists, were instead found on the morning of March 13, 2016, posted at a tram stop, and near the house of Giuseppe Bevacqua, the operator of the local TV channel Tirreno Sat, who on March 5 had been attacked, along with his colleague Alessandro Silipigni. The flyer expresses solidarity "with the rebellious impulses that in a normal afternoon, in a normal square, have the poetic courage to kick a camera to sabotage its lens", referring precisely to that unfortunate incident.
These are the last two events that witness the climate of intolerance that reigns in Messina against the press. On 12 March 2016, the Order of Journalists of Sicily spoke through a note: "These acts of intimidation will not stop those who daily are committed to information. We strongly condemn any attempt to gag or threat. The climate that has been registered in these months in Messina was constantly monitored by the Order. We have on several occasions expressed our concerns."
The Order expresses solidarity with Bevacqua and Silipigni and thanks, furthermore, the Prefect Stefano Trotta who, the statement said, has "repeatedly intervened on behalf of colleagues and information operators in Messina." Solidarity with the journalists has also been expressed by the regional government.
AV – RDM

I contenuti di questo sito, tranne ove espressamente indicato, sono distribuiti con Licenza
Creative Commons Attribuzione 3.0