Rome. Police under investigation protests for television interviews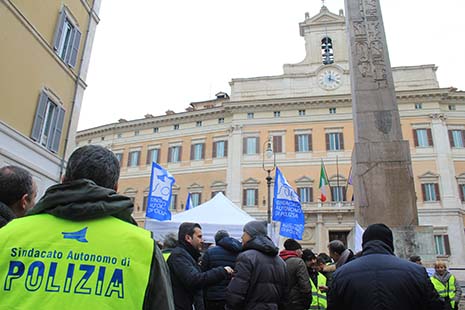 Demonstration in Piazza Montecitorio. Fingers pointed at publishers that would have allowed for agents' identification
On the SAP (Independent Police Union) gazebo mounted in Piazza Montecitorio on March 9, 2016, there is a print in large letters: "Hunger strike, because the truth is not a crime: the helmets are rotten, the training insufficient, equipment is inadequate, the body weakened by cuts". The trade union demonstration was organized to "denounce the weakness of the security apparatus and against a series of repressive actions that came to fruition in some disciplinary proceedings, including one against a union leader suspended from duty for having shown during a telecast the inadequacy of the equipment in use to by police".
It was the SAP Secretary General, Chief Inspector Gianni Tonelli, committed for more than 40 days to a hunger strike as an act of protest. Tonelli, who has announced that he has recently received a notice of investigation on charges of spreading "false, exaggerated or misleading information likely to disturb the public order", during television interviews in which he denounced the inadequacy of State Police equipment. The same measure would have be issued against at least four other police officers, for the same offenses.
To the protest of the SAP also other police unions have joined. Among these, the PNFD (new democratic police force) that, in a note in which it announced its joining in, stated that the police officers of the SAP "are undergoing a genuine persecution and media pillory, only for having told the truth about the real state of (in)security in which the country verses and in which policemen are forced to operate in the current context of risk of terrorism and mafia infiltration". The statement refers implicitly to agents who, with the guarantee of anonymity, have provided information and made statements to journalists of some TV programs of investigation, but would have been detected bypassing the professional secrecy which is acknowledged to reporters and which journalists regulary cling to. This result was obtained by performing the seizure of the original footage of the interviews directly from publishers.
AV

I contenuti di questo sito, tranne ove espressamente indicato, sono distribuiti con Licenza
Creative Commons Attribuzione 3.0