Vatileaks 2. Saturday, march 12, after three months, the trial resumes in the Vatican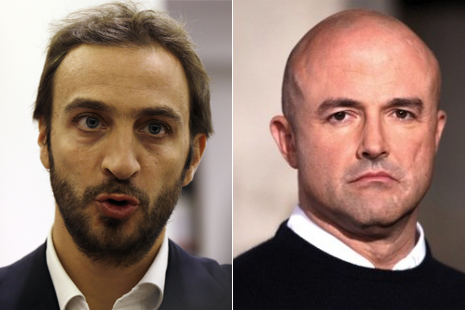 The hearing will be behind closed doors. On 14 and 15 March the interrogation of the accused, including the journalists, Emiliano Fittipaldi and Gianluigi Nuzzi will follow
By Nina Fabrizio (ANSA) – Vatican City, March 7, 2016
It will resume next Saturday in the Vatican after three months, the trial Vatileaks 2, the judgment on the abduction and the robbery of confidential documents of the Holy See that sees as defendants the two former members of the Cosea Commission for the review of finances, the Italian-Moroccan public relations officer Francesca Immaculate Chaouqui, Monsignor Lucio Angel Vallejo Balda, his assistant Luca Maio, and the two journalists Gianluigi Nuzzi and Emiliano Fittipaldi.
The long break, lasting longer than expected however (it should have ended on February 20, 2016) has served for the completion of the IT audit on the complex material regarding email communications, text messages and whatsapp, especially between the two major defendants, Chaouqui and Vallejo Balda. The Court has now set for Saturday the hearing behind closed doors in which the Court and the parties will determine which components of the huge trove of material scrutinized by the experts will have to be acquired to the acts of the trial, based on their relevance to the alleged offenses, which are, for Chaouqui, Balda and Maio, criminal conspiracy and theft and dissemination of news and confidential documents, while Fittipaldi and Nuzzi, authors of the bestsellers "Via Crucis" (Way of the Cross) and "Avarizia" (Avarice), the only charge of disseminating documents, deemed unlawful . At the heart of the trial, after this long preliminary phase, there will also be the other two hearings already scheduled for next Monday and Tuesday, March 14 and 15, and that will be dedicated to the deposition of the defendants and possibly listening of the witnesses.
Excellent names have also been called to testify at the request of the defensive parts, including Cardinal Pietro Parolin, Vatican secretary of State, Cardinal Santos Abril y Castello, Archpriest of St. Mary Major and President of the IOR Supervisory Commission, the Papal Chaplain Msgr. Konrad Krajewski – all called as witnesses by the accused Francesca Chaouqui – or as the former chief editor of the Corriere della Sera, Paolo Mieli, as requested by Gianluigi Nuzzi. Among those cited in the courtroom, Mario Benotti, former chief secretary of the Secretary of State for European Affairs, Sandro Gozi, co-investigated with Chaouqui and her husband Corrado Lanino in the investigation of the prosecutor of Terni, now merged in the of Rome, on the sale of properties in the Umbrian diocese.

I contenuti di questo sito, tranne ove espressamente indicato, sono distribuiti con Licenza
Creative Commons Attribuzione 3.0