Complaints. Many requests at the one-stop-shop legal desk set up by Ossigeno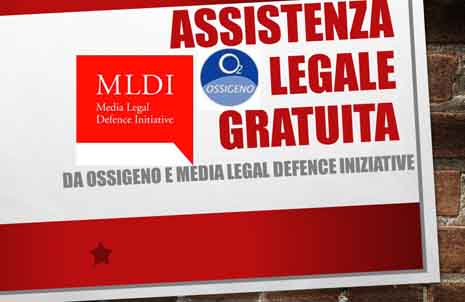 In a few months it has become the reference point for journalists and bloggers suffering from spurious charges. From London, the support of the MLDI
In a few months the One-Stop Shop Legal Desk by Ossigeno per l'Informazione, coordinated by the lawyers Andrea Di Pietro and Valerio Vartolo, has become the reference point for reporters who do not have adequate personal resources nor the support of publishers willing to help them in defending themselves from the many, the too many, spurious lawsuits and other instrumental judicial initiatives.
Born from an agreement between Ossigeno and the Media Legal Defence Initiative (a non-governmental organization based in London which helps journalists, bloggers and independent reporters from around the world to defend their rights), the Desk has confirmed in his first months of activity how necessary it is to have created a real solidarity instrument capable of supporting, together with media professionals, the freedom of information in a country where so many abuses and threats against journalists prevent the spread of unwelcome news.
Journalist employees, freelancers, bloggers, have turned to the Desk and found the assistance provided. The lawyers who run the Desk have discovered that often who seeks their help are those journalists working for medium and small newspapers, journalists with fixed-term contracts, journalists working for independent newspapers online, all without the legal protection of publishers, now guaranteed only to those who work for large newspapers (and no to all).
Having to rely on a tight budget allocation (currently only the one provided by the MLDI) Ossigeno has decided to provide assistance especially to the weakest journalists. Without any legal protection, many of these information workers are likely to succumb to the abuse of bullies. And the defeat of press freedom, the essence of any liberal and modern democracy, is thus weakened.
Ossigeno per l'Informazione made of the contrast to reckless suits its own flag, a 'fundamental question' of its activities. The solution requires profound legislative reforms, of which at the moment only a few glimmers appear. It requires that European case-law on freedom of the press is fully accepted by the Italian courts; it requires that courts apply all forms of contrast already provided by the codes against abusers of judicial instruments and against those whose allegations are false or reckless; it requires Parliament to pass several new and effective deterrents, following the example of other countries, and a law on libel that allows to properly balance the right to defend the personal reputation and the right to inform and be informed, and also a legal status of the journalistic profession that recognizes its social function and public interest.
But while the grass grows, many journalists are in trouble and in need of help, immediately. That is why the One-Stop Shop Legal Desk by Ossigeno per l'Informazione was created. It will continue to work in favor of all journalists in trouble by investing in this enterprise: civic passion, professional volunteers, and all the resources that will be obtained from the generous and disinterested supporters, like the MLDI, which allowed to start this business.
ASP

I contenuti di questo sito, tranne ove espressamente indicato, sono distribuiti con Licenza
Creative Commons Attribuzione 3.0