Press freedom is decreasing, says Commissioner for Human Rights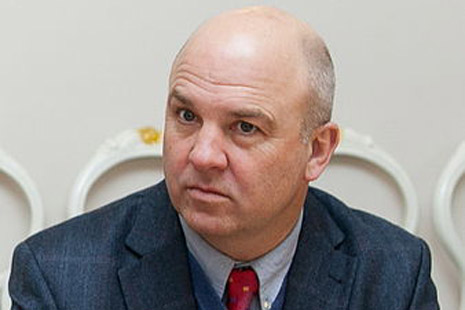 On the eve of World Press Freedom Day, Nils Muiznieks paints a worrying international situation and makes proposals to reverse the trend. Interview with Oxygen
"Regrettably, freedom of expression and the right to information are shrinking in many countries. We have to reverse the course, strengthen press freedom, with a broader and more detailed vision of the problems and develop coherent initiatives. We ought to do this because freedom of the media is crucial to enjoy a variety of other human rights. Without free media there cannot be free elections, you cannot have freedom of assembly" says the Council of Europe Commissioner for Human Rights, Nils Muižnieks, during his meeting with "Ossigeno per l'Informazione" ahead of the World Press Freedom Day, taking place on 3 May annually. The Commissioner speaks frankly, saying what he has observed in the many country visits he has carried out, he also explains why he is worried and what should be done to reverse the course.
Nils Muižnieks is a political scientist. He is 52 years old, with a large smiling face which inspires confidence. But when he talks about media problems, sadness clouds his face. He has been a human rights activist and then minister in his country, Latvia, which became a member of the Council of Europe in 1995 and of the European Union in 2004, after the collapse of the USSR.
Muižnieks is a competent and well aware official, with a broad overview of the problems related to the right to information and freedom of expression. Since 2012 he is among the main guarantors of the rights enshrined in the European Convention on Human Rights ratified by the 47 member states of the Council of Europe, including the 28 members of the European Union. In this capacity, Muižnieks has pledged to speak frankly, without double talk. This is what he said when I have met him in his office in Strasbourg for this interview.
"I see my role in providing an honest mirror for the governments and civil society, but sometimes it is difficult" – he says – "to tell people to look in the mirror. Unfortunately, I have observed increasing problems as regards the right to information, freedom of expression and safety of journalists in many countries. In my opinion, as regards to all the violation of human rights, I see a dangerous backsliding in Europe. The situation in which journalists work is getting worse in many countries: not only in the Western Balkans and in Turkey, but also in Western European countries and in some of the recent members of the European Union, in which we thought that democracy had consolidated. Yet this is clearly not the case".
How do you come to this conclusion?
From various reports I receive and from what I observe during my country visits. In recent month I have focused on media freedom in several countries, including Poland, Hungary, Bulgaria, Turkey, San Marino, Serbia, and Ukraine. The trend is quite bad. In other countries we also see journalists who live under threat.
In France the tragic attack against Charlie Hebdo took place. In other countries, journalists are threatens by people linked with the mafia, politicians who do not want to be criticised or businessmen of various kinds. The situation is getting worse in many countries, including in a number of countries which have recently become members of the European Union and were expected to have consolidated democracy with a stable freedom of the media."
What is the cause of this backsliding?
"There is no single cause, it differs from country to country. Turkey, with over 30 journalists in jail, is the European country with probably has the highest number of journalists behind bars. There are also thousands of lawsuits for defamation against the President and other politicians. Over 1,800 against the President and 3,000 for defamation of the mayor of Ankara, for example. This is completely out of control. There is also an abusive application of the antiterrorism legislation. The jurisprudence of domestic courts is diverging increasingly from that of the European Court, after a long period in which it has been converging.
In conflict zones we have seen journalists to come under threat as well. This is the case in Ukraine, for example. In Crimea too, there is a huge pressure against journalists and media, with searches carried out in the homes of journalists. The situation is very serious.
In Hungary, you have a very strong political majority which thinks it has a mandate to impose drastic changes, and since it has so much power in the legislative and in the executive braches and elsewhere it exort a lot of influence, directly and indirectly, on the freedom of the media. In Poland the situation is more nuanced. There haven't been significant changes or threats to commercial media, but we have concerns as regards the public television. In Croatia as well, the press faces pressure.
As regards to the pressure and interference from politicians, have you observed an increased use of the reason of State?
"It could be the case. There are security concerns and surveillance issues which are very widespread and can infringe on media freedoms. But I think you also have arrogant political majorities who feel they have a strong electoral mandate and are intolerant of criticism of any kind.
 Do you think that the polarisation of political parties and media, which is also strong in the USA, and the fact that media do not team up against interferences and attacks against journalists, are part of the problem?
Yes, this is an additional problem. In many countries I have visited, I observed little solidarity among media workers. They do not stand together against threats from the mafia, threats from government and threats from other actors. They compete with each other and they have different economic interests. They are missing the opportunity to improve the situation of the entire sector because of their internal conflicts.
What do you thinks of the "Platform for the protection of journalists" that the Council of Europe established in 2015?
It is a good tool and has worked pretty well. It is one of the few places where we have NGOs challenging governments within an international organization and governments often respond. People are generally satisfied with the results of this experiment.
 In reality we do not know what happens exactly. Not even this Platform shows it. In some countries the monitoring of these violations is sporadic and partial. For example, the Platform has mentioned only 4 of the 800 cases of intimidation against Italian journalists made known by Ossigeno per l'informazione in the same period. And in other countries nobody does the monitoring we do. To better understand the phenomenon in each country, there is the need to monitor in a reliable manner all the violations, not only those of great gravity, as it happens now in most of the cases. You have already proposed this. Don't you think that today, when the press faces increasing challenges, is more than ever necessary to develop this monitoring, both to help journalists under pressure and to allow international institution to elaborate an adequate strategy and intervene in time against the most serious cases and also against those which do not seem serious, but they become so because of unhindered repetition?
"For years now, I have been saying that we need national observatories to monitor media freedom, safety of journalists, media law, access to information and how surveillance and other security operations affect media freedom. There are a very few good national observatories here and there and good regional NGOs, but there are many countries which have very few, if any, NGOs that specialise in freedom of expression. My own country, Latvia, has no NGOs that specialise in media freedom and freedom of expression. So there are many places where this expertise is lacking and we have to really count on the few big regional and global NGOs. This is not enough: we need somebody with local knowledge, who knows the local scene, who can network globally. This kind of monitoring, like Ossigeno does, as well as that of regional NGOs and of the Council of Europe is absolutely critical.
Thank you for appreciating Ossigeno's work. After nine years, we think that the work we have done in Italy can be useful in other countries as well. For this reason we are trying to let people abroad know about our experience, both to check whether it can be replicated in other countries, and to brainstorm with others, in particular on the need to observe violations with methods which is different from that used in countries which are at war. We also think it is necessary to promote a diverse and broader vision of the problem. Our experience taught us that it is necessary to raise awareness in schools about the right to free expression and free media, train observers on violations of these rights in universities, and protect in the Criminal Code freedom of expression and other universal rights.
"It is a good idea to export your methods and promote a broader vision of the problem. It is needed. It is also important that journalists protect and promote ethical journalism, in particular in times during which journalism falls victims at times to propaganda and information wars. Journalists should not become tools in a bigger geopolitical battle. This is a crucial challenge: how do we confront propaganda? How do we confront media outlets which are closely linked with governments, while maintaining freedom of expression, freedom of the media and quality journalism? I do not think the answer is counter-propaganda, I think the answer is quality journalism, ethical journalism, media pluralism. I do not think the answer is to block, but rather enable well funded, quality public service media, independent from the government, as well as a diverse and pluralistic commercial media, independent from businessmen and are not used as economic or political tools.
Let's get back to the problem of monitoring. How can a network of national observatories be established? And what kind of observatories should we have? Should they be established by the civil society and work on a voluntary basis, like in Italy, or should it be a public institution that establishes them, as recommended last 13 April by the Council of Europe Committee of Ministers?
"Many national human rights intuitions do this. Ombudsman and some human rights commissions already monitor human rights violations, including media freedom and freedom of expression, and recently I have discussed these issues with some of them some. But these institutions are often underutilised".
In Italy there is Ossigeno, but Italy is the only EU countries in which there is no national Ombudsman, nor Media Accountability Systems, not even a parliamentary Commission on human rights. And we know how much we need them. Can you help us open a public discussion on this topic by taking part in an event in Italy?
"Now I have a busy schedule, but I have two years left in my mandate and I will try to come back to Italy before the end of my mandate."
Nils Muižnieks, 52, is a Latvian national educated in the United States, where he obtained a Ph.D. in political science at the University of California at Berkeley. He has been working in the field of human rights for the past two decades. On 1 April 2012 he took up the office as Council of Europe Commissioner for Human Rights, succeeding Thomas Hammarberg (2006-2012) and Alvaro Gil-Robles (1999-2006). Prior to his appointment as the Commissioner for Human Rights, he held posts such as Director of the Advanced Social and Political Research Institute at the Faculty of Social Sciences of the University of Latvia in Riga (2005-2012); Chairman of the European Commission against Racism and Intolerance (2010-2012); Latvian minister responsible for social integration, anti-discrimination, minority rights, and civil society development (2002-2004); and Director of the Latvian Centre for Human Rights and Ethnic Studies – now Latvian Human Rights Centre (1994-2002).
ASP

I contenuti di questo sito, tranne ove espressamente indicato, sono distribuiti con Licenza
Creative Commons Attribuzione 3.0
/