Protection to threatened journalists. On may 3 Ossigeno will present the major issues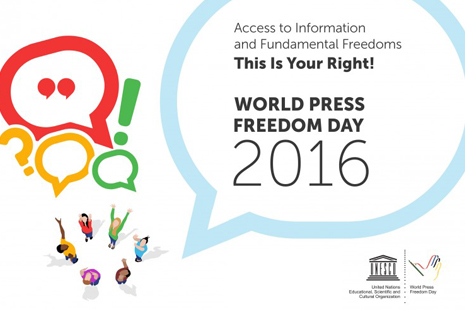 In Rome during the "World Press Freedom Day" in memory of slain journalists. Meetings with students and journalists and a projection with free admissionOn May 3, 2016 Ossigeno per l'Informazione will celebrate in Rome the World Press Freedom Day, convened by UNESCO. There will be public initiatives in memory of slain journalists and to support journalists in Italy threatened because of their work, which are ever more numerous, as evidenced by the list of their names published by Ossigeno. Indeed, even in 2016 the list is growing at a rate of more than one victim a day. On top of remembering the slain journalists, it is necessary therefore to protect those who are threatened by facing the issues that will be presented on May 3.
The day will roll out in three stages. At 9, in collaboration with the National Library of Via Castro Pretorio 105, in the venues of the institution, some high school classes will meet journalists threatened because of their work and the families of the journalists killed.
At 14.30, the research on the Mafia and information held by Ossigeno per l'Informazione, on behalf of the Parliamentary Anti-Mafia Commission, will be presented at the Press Room of the Chamber of Deputies, at Palazzo Montecitorio. Alberto Spampinato, director of Ossigeno, will speak along with Mr Claudio Fava, vice president of the Committee.
The day will end at 20 p.m. with the free admission screening of the documentary "Silencio", realized by Attilio Bolzoni and Massimo Cappello, which tells the stories of the threatened reporters in Mexico and in Calabria. After the screening, the journalists Attilio Bolzoni and Lirio Abbate will discuss with the audience.
The initiatives are sponsored by the Senate, the Chamber of Deputies, by the Observatory for the legality and safety of the Lazio Region, the Social Secretariat of Rai, Regional Order of Lazio and Press Association of Rome.
To attend the press conference, please apply for accreditation by sending an email to segreteria@ossigenoinformazione.it indicating name and surname, date and place of birth. Photographers and video operators must follow the procedures for the access of filming equipment, registering with the Press Room of the Chamber of Deputies.
FD ASP

I contenuti di questo sito, tranne ove espressamente indicato, sono distribuiti con Licenza
Creative Commons Attribuzione 3.0