Rome. Reporter Trocchia blocked from minister detail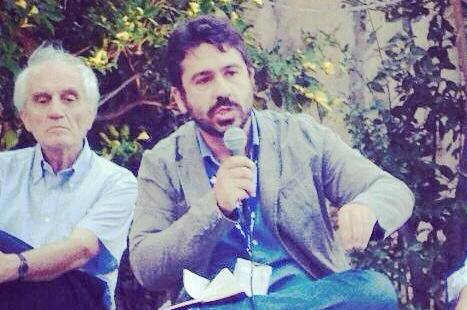 He got closer to ask a question about Tempa Rossa. He was also mocked. "Respect is needed" said the journalist of La Gabbia. The comment by Ossigeno
On April 5, 2016, in Rome, the journalist Nello Trocchia, reporter of the television show La Gabbia (broadcast on La7), was blocked like a rugby player from an agent of the detail of the minister Maria Elena Boschi, who also mocked him and let him go only after the minister had moved away.
Trocchia had approached the minister asking if she could reply to a question. The argument was implicit: the judicial scandal that prompted the resignation the minister Federica Guidi and the wiretaps that would call into question Maria Elena Boschi, already heard by investigators as a person informed of the facts.
The tackle, which occurred in a narrow street overlooking the back of the Presidency of the Council building, was documented by cameras of La7 and aired during the episode of La Gabbia on April 6th. The video shows Maria Elena Boschi and his spokesperson attend the scene and get in the car, regardless of what had just happened. Meanwhile, the detail officer, before leaving, ironically shouted to Trocchia, who remained motionless on the sidewalk: "Come, come to the hospital".
"I'm always respectful of everyone, but I'm a reporter and I wanted to try and ask a question – Trocchia told Ossigeno – I do not think this is the treatment a journalist deserves, among other things one identified and acknowledged. Is the way to be a minister's detail? It seems an anomaly. Respect is needed." Trocchia did not file any complaint. "I think the images speak for themselves" he commented.
The journalist said that already in the morning of April 5th he had tried to interview Ms. Boschi. First in front of the Senate; then in front of the Presidency of the Council of Ministers. "We had been widely identified – Nello Trocchia said – also the spokesman of the Minister knew that I wanted to ask a question." The reporter did not receive any apology.
THE COMMENT BY OSSIGENO – On the locking of the television reporter Nello Trocchia at the hands of a man of the detail of the minister Maria Elena Boschi – the secretary of Ossigeno, Giuseppe F. Mennella, declared – the video footage is clear and unambiguous: making it difficult to deny that the facts rolled out in an unacceptable fashion, just as Ossigeno per l'Informazione reports. Consequently, it is hoped that some circumstances are clarified. Do detail agents have the task of preventing journalists from placing questions to ministers? The leadership of the police and the leaders of the detail Service want to dissociate themselves from such conduct or intend to act as a guarantor through silence? The minister has nothing to say? Does she feel solidarity to the reporter or to the agent who caught him and ridiculed him? The attacks on reporters who ask questions in the interest of citizens are way too many. If we let them go, we merely encourage attackers.
RDM

I contenuti di questo sito, tranne ove espressamente indicato, sono distribuiti con Licenza
Creative Commons Attribuzione 3.0