She follows the No Tav. Journalist convicted for violation of restricted area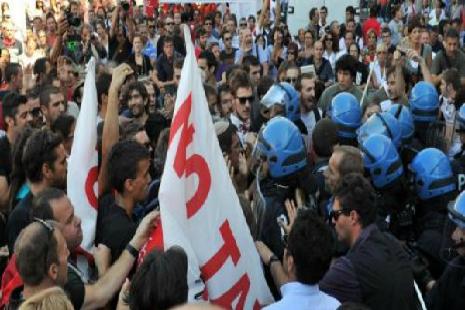 Flavia Mosca Goretta of Radio Popolare in 2011 had followed a protest in the Susa Valley. On 7 April 2016, the Supreme Court has upheld the first instance judgment
On 7 April 2016, the Supreme Court has sentenced, upholding the judgment of the Court of Turin, the journalist Flavia Mosca Goretta, collaborator of Radio Popolare, for having introduced herself in 2011 in an area subject to interdiction by a prefectural ordinance in order to tell the story a group of No TAV activists in Val di Susa.
The fine for the reporter is of 100 euro but, writes the chief editor of Radio Popolare Mr Michele Migone in an article from April 12th commenting the case, "the message that the Supreme Court sends us is very dangerous. It tells us that a journalist has to make do, stay away from the epicenter of an event, do not document it closely, stay a step behind, stop in front of the limits and prohibitions. It has to do so because it is useless to go on the front line when it is possible to obtain the same information from behind the front line."
On the Mosca Goretta case also the National Press Federation, the Italian National Reporters Union and the editorial board of Radio Popolare intervened to protect the freedom of the press .
The judgment of first instance against the journalist began at the end of 2014. The charges against her – and for the other people present at the time – were those of infringing the area under interdiction and of having damaged a fence. The journalist had been acquitted from the accusation of damaging the property but condemned because, for the court, "she introduced herself in the off-limits area to gain useful information, although she could have acquired them otherwise…". The sentence was confirmed by the Supreme Court.
RDM

I contenuti di questo sito, tranne ove espressamente indicato, sono distribuiti con Licenza
Creative Commons Attribuzione 3.0