Why it doesn't make sense to compare Italy to other European Countries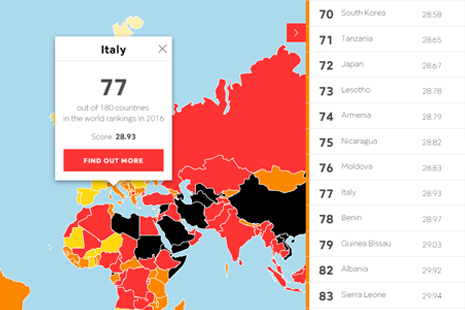 Are we sure that the situation in other European countries would be better than ours if they had their own local Ossigeno per l'Informazione?Freedom of the press in Italy is in a sickly state and the situation has severely worsened in the last year, just as the new report by Reporters Sans Frontieres states. But I do not think that the Italian situation is so much worse than that of other European countries, as the report maintains.
The French Observatory makes unclear international comparisons, not too transparent, and as such do not make much sense. For example, what is the point of judging Italy based on data about threats and abuses against journalists, produced by Ossigeno per l'Informazione (the only ones available on this matter) and compare Italy with other European countries, for which, at this voice, nothing serious is reported and not because nothing happens, but because there is no local Ossigeno per 'Informazione which undertakes to verify the facts and to report them systematically, actively, with an indisputable scientific method? If for Italy the report did not take account of the data collected by Ossigeno, Italy would make look in a much better shape. Why not say so? We have been saying so for some time and we wonder why some people insist on organizing championships and draw up charts, comparing what is not comparable.
Who benefits from this? Might there be something more useful to do, in the interest of freedom of the press?
ASP

I contenuti di questo sito, tranne ove espressamente indicato, sono distribuiti con Licenza
Creative Commons Attribuzione 3.0
/