No questions, we are ministers. Boschi and Padoan do not reply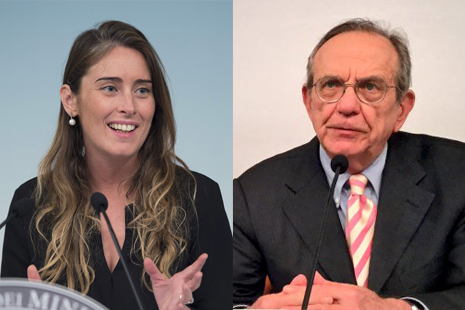 The incidents occurred in Catania and Rome. The Economy Minister was at a training seminar for journalists
A few hours apart, on May 13, 2016, two ministers of the Republic refused to answer questions from journalists. Maria Elena Boschi, Minister for Reforms, was host of a conference organized by the High School of Catania; in Rome, Economy Minister Pier Carlo Padoan was attending a training seminar for journalists at LUISS University.
Maria Elena Boschi did not respond to questions from reporters present at the meeting with students. As seen in the video posted by FanPage, the minister, surrounded by her staff, pulled straight ahead without giving any response to questions from reporters who had waited for the end of the conference in order to be able to address a few questions. Ms Boschi, the authors wrote in the FanPage article, "answered to the questions of journalists only a few hours later, in a meeting held at the Palace of Culture of Catania".
A similar story was repeated in Rome, during a training session organized by the University and the Order of Journalists, which was attended also by the Minister Padoan. "No audio or video recordings, posts on Facebook and Twitter nor, above all, questions. All silent", Giorgio Velardi writes on FattoQuotidiano.it.
The article says that in the hall also a press area reserved for journalists had been prepared, but already the day before the meeting, media operators were informed via e-mail that the seminar would follow the Chatham House Rule, a conventional rule that governs the confidential information exchanged during meetings behind closed doors (and allow participants to speak freely). To contravene to the terms was a reporter of a news agency that quoted some statements by the Minister. Immediately called by the LUISS press office and that of Minister Padoan, the reporter explained that she was only doing her job.
"Attempting to prevent journalists from carrying out their function in the interest of citizens is becoming a national sport – Giuseppe Federico Mennella, Secretary of Ossigeno per l'Informazione, commented – and the higher the public figure the more this sport is practiced. Is it a sign, altogether, of insecurity and arrogance? It is quite probable. What is certain is that this way of dealing with journalists has been going on for years: a practice that should be alien to a democratic society and that should now require unanimous action from the professional organizations."
RDM

I contenuti di questo sito, tranne ove espressamente indicato, sono distribuiti con Licenza
Creative Commons Attribuzione 3.0