The language has changed, now lets change things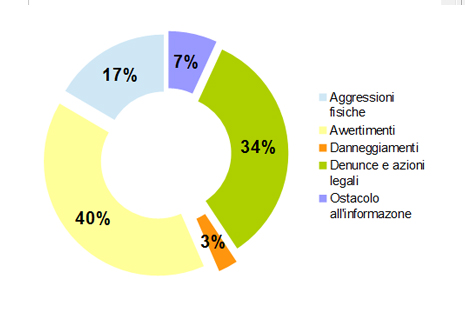 How the monitoring of acts of intimidation and abuse against journalists has changed the way we talk about press freedom violations
When talking about press freedom restrictions, about the most serious attacks on the right to information, now, increasingly, expressions like intimidation, threats, abuse of law, complaints specious, spurious or unfounded causes, chilling effect of prison sentences for libel are used ever more frequently. This language is new, and it has spread over the past decade. Before the same violence and abuse occurred, but were not correlated to press freedom.
The causal link has become apparent only since Ossigeno per l'Informazione has begun the monitoring of acts of intimidation and organizes various initiatives that have increased the focus on these issues. This has changed the language and how to address these problems, a complex of problems that damages not only the journalists but all citizens, who are the other stakeholders of the right to information.
The dripping water wears away the stone, says a Latin proverb, and this was also the title of an annual report that Ossigeno produced five years ago. The drops from Ossigeno have dug deep, but there is still yet quite a bit that needs digging out, and in various directions. For example, with government authorities and parliamentary assemblies, which still today do not want to hear about the decriminalization of libel and are keeping in the sand a bill that would erase prison for this offense.
If we raise our gaze beyond the Italian borders, we can perceive a different sensibility. In the European Court of Human Rights, today, it is possible to breathe a different air: another vision and a higher consideration of the exercise of the right to report and criticize have been established. Of course, the contents of the European Convention for the Protection of Human Rights (article ten) and the judgments of the Court, which among other things should be reflected more in the Italian judgments given that the Convention forms part of the Italian body of law, matter.
For some time also other influential continental institutions have made their voices heard, as today the Council of Europe's Commissioner for Human Rights Nils Muiznieks has done in the interview with Ossigeno per l'Informazione on the eve of May 3, the International Day for freedom of the press. On top of the intense activity by the Commissioner, there are the Recommendations of the Committee of Ministers, approved and circulated recently, where a large number of issues related to the safety of journalists and to national legislation on freedom of the press are covered. The Recommendation, for example, insists that nation states should adopt legislation in line with European standards, drawing on the principles of the Convention and the Court's jurisprudence: caution when applying criminal laws, proportionality of penalties and fines against journalists, protection of media workers and defense of their activities by the powers that be (of any kind).
GFM

I contenuti di questo sito, tranne ove espressamente indicato, sono distribuiti con Licenza
Creative Commons Attribuzione 3.0