Naples. Fanpage investigation on exchange vote. Journalist receives death threat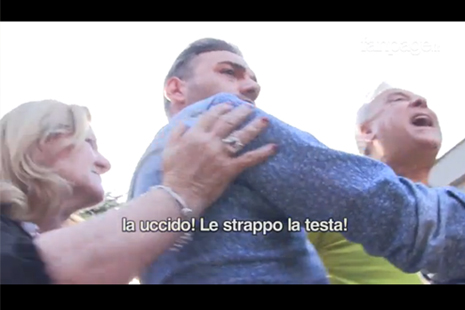 "I'm going to kill her. I'm going to rip her head off", the founder of a non-profit organization that operates a food stand yelled at Gaia Bozza
Votes in exchange for food: the FanPage journalist Gaia Bozza, has tried to shed light on an alleged episode of vote trading in Naples, during the local elections of June 5, 2016, but was assaulted and threatened with death by Ciro Froncillo, founder of AvoG, the association that manages the food stand of the Don Guanella parish in Scampia. The incident occurred on June 10, 2016, and the attack is documented by a video. The reporter was with the colleague Peppe Pace, also from FanPage. The report is signed by Bozza, Pace, Carmine Benincasa and Antonio Musella.
The video-inquiry opens with an interview with a man who claims to have received food parcels in exchange for a vote for two candidates of the Democratic Party, one of which, Rita Froncillo, running for the City Hall, is the daughter of the founder of AvoG. The other candidate (to the City Council) mentioned in the report, Anna Ulleto, is already under investigation by the Prosecutor of Naples for other alleged incidents of vote trading (related to the job-training program Garanzia Giovani – "Youth Guarantee").
The journalist is considering taking legal action. "After gathering the evidence, we have sought a reply from those directly involved – the journalist told Ossigeno. When faced with our questions, the reaction by the founder of AvoG is the one you see in the video." Ms Bozza has received the solidarity of the Union and the Order of Journalists of Campania which, in a joint statement, wrote: "We must never bow our heads and react." An attitude that the reporter seems to share since on Facebook, after thanking everyone for the many declarations of solidarity and esteem, she wrote: "Unfortunately the attacks and threats against journalists and video reporters are rife. We continue to work, together with the Fanpage team. "
THE VIDEO – The recording opens with the interview by Antonio Musella to a man who claims to have received two food parcels in the same month and, in return, received electoral cards with the request to vote for the two candidates.
Later, Gaia Bozza goes to the association to ask questions, but immediately is faces the annoyance of the president who, at the end of the video, shouts at her to leave. Then, in the courtyard of the church he pushes the journalist and, among other offenses, said: "I'll kill her, I'll tear her head off".
The video ends with an interview to Rita Froncillo, elected to the Town hall, which refutes the hypothesis of vote trading.
RDM

I contenuti di questo sito, tranne ove espressamente indicato, sono distribuiti con Licenza
Creative Commons Attribuzione 3.0