Acerra. Exchange vote? Mayor files lawsuit against reporter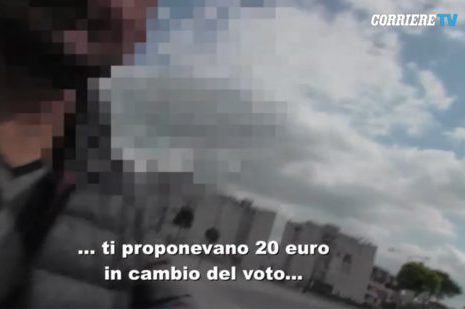 Antonio Crispino, collaborator in Naples of the Corriere.it, has been notified of the lawsuit. The mayor denies having any links to Camorra clans
On May 27, 2016, Raffaele Lettieri – mayor of Acerra (in the province of Naples) – announced on Facebook that he sued for libel the journalist Antonio Crispino, author of a video inquiry on vote trading in the same municipality. The mayor complains that the reporter interviewed some who claim to have received money and favors in exchange for votes for him and for one of the councilors who received the most votes, Pino Puopolo. These are, the mayor says, statements "beyond any objective feedback". Furthermore, and an element that Lettieri believes even more damaging to his dignity, is the reference to his name in connection with the Camorra clan De Sena. The inquiry was published on Corriere.it.
Crispino, to whom the lawsuit was served on June 3, declared to Ossigeno: "I think this is a typical example of reckless lawsuit made by taking a phrase here and there with no respect for neither the journalist nor for the judiciary".
THE INQUIRY – The journalist pointed out that his investigation "arises because Acerra has been inserted by the Prefecture of Naples amongst the 27 municipalities that are under observation for Camorra infiltrations". A year ago, moreover, an investigation began by the Prosecutor of Nola on vote exchange for jobs in the same municipality, but – as stated in the article by Crispino – it has produced no results. Crispino features video witnesses from some inhabitants of the municipality in the province of Naples, unidentifiable, who say of having received money and favors in exchange for voting for the mayor and the City Councillor Pino Puopolo. To outline the profile of the mayor, Crispino quotes, and shows it in the video, a notice by the police which states that Lettieri "worked as a surveyor for the nephew of Mario De Sena, prominent Camorra racketeer, included among the 500 most dangerous fugitives".
In a statement released by his press office, the mayor said that the video has an offensive and derogatory tone, and goes beyond journalistic criticism. Lettieri specifies that the town of Acerra has repeatedly claimed damages against the clan De Sena in various "Camorra trials".
In the video the mayor's voice and Puopolo's voice are missing, but it is possible to see the journalist who tries to interview them. The images show Crispino entering in the elevator with Puopolo, who tries to stop him; then, once arrived in his office, the councilor slams the door on the reporter leaving him outside.
RDM

I contenuti di questo sito, tranne ove espressamente indicato, sono distribuiti con Licenza
Creative Commons Attribuzione 3.0