Blogs seized, obscured and forgotten. "Il Gorgon" was silenced 4 years ago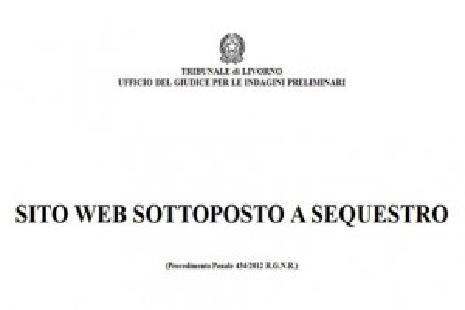 It was decided by the magistrate of Livorno as a precaution. The charges for libel concerned only two of the hundreds of pages. Too expensive to ask for the release from seizure
The website http://www.ilgorgon.eu website was seized and blackened out by a judicial order four years ago as a preventive measure on the basis of a libel suit. It is still obscured, seized and made inaccessible to the owner and to users. Yet, the journalist Antonio Brindisi, who was the curator, says, from the beginning there lacked the conditions to do so because the spare content that was challenged had already been removed spontaneously. To ask for a release from seizure at some point became too expensive.
Ossigeno has repeatedly dealt with the case (see the links at the bottom of this article). The story can be summed up in a few words. In March of 2012, seven residents of the tiny island of Gorgona, off the coast of Livorno, presented to the Court of Livorno a libel suit and a request for darkening some web sites. It is necessary to point out that Gorgona houses a penal colony on the island, where only a few dozen residents live, including Antonio Brindisi, and only authorized persons are allowed to disembark. The plaintiffs considered themselves offended by the content of some pages of the site and by the behavior of Antonio Brindisi, at the time a journalist, who was curating it.
Following the reports, on April 10, 2012, the magistrate Gioacchino Trovato ordered the preventive darkening of the site, which was immediately executed. Three months after, the Court of Review rejected the appeal filed by the journalist to reopen it. It would have been possible to make a further appeal to the Supreme Court, but Antonio Brindisi resigned. For him it was too expensive. So the website was darkened.
Three years later, on October 5, 2015, Brindisi was tried for libel. His defense counsel, the attorney Carmelina Licata, asked in vain that he be recognized with the right of satire. The prosecutor asked for six months in prison. The Court sentenced the journalist to pay a 1500 euro fine. The sentence was referring to those two specific pages, but all the other hundreds of pages of the website have remained obscured and subject to seizure, pending the appeal process, which has not yet been fixed.
"I'm amazed. These are things – Antonio Brindisi told Ossigeno – that I just can not understand. I have exercised the right of expression and criticism provided by the Constitution. I also voluntarily removed the objectionable content. The blocked site contains many pages of useful information that do not disturb anyone: historical, geographical and cultural information. Only some touch recent events."
"My troubles began – Antonio Brindisi added – when I described satirically, in a rhyme that occupied two pages of the site, some islanders and their quirks. Six of them were offended. They complained and I, albeit reluctantly, removed those two pages. They, in the meanwhile, had produced a hard copy of those two pages and, unbeknownst to me, they sued producing that copy. The judge ordered the seizure without even seeing that those pages were gone. I tried to say so, three years later, in the Court, and in vain I asked for the release from seizure of the site. I still wonder how these things can happen in Italy. Among other things, from August of 2012 until today I am being prevented from landing on the island and I can not know why."
ASP

I contenuti di questo sito, tranne ove espressamente indicato, sono distribuiti con Licenza
Creative Commons Attribuzione 3.0