He writes that Salvini is a "loafer": for the judge it is not defamation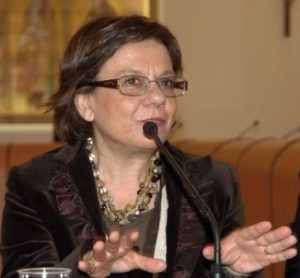 In Cosenza the lawsuit that the leader of the Northern League had lodged against Annarosa Macrì, a journalist of the Quotidiano del Sud, was sent to the archives
The magistrate of the Court of Cosenza, in June 2016, has sent to the archives a libel lawsuit filed by the Northern League's leader and MEP Matteo Salvini against the journalist Annarosa Macrì, of the Quotidiano del Sud, for an article published on March 18 2015 on the column that the reporter produced daily for the newspaper.
Salvini was offended because Macrì – who in January 2016 received notification of the complaint – called him a "bum", "a rascal" and an "absentee" in a text in response to a letter from a reader of the column, which raised the issue of the frequent reccurrences of Salvini on TV. The magistrate held that the expressions used by the journalist fell fully within the freedom of the press boundaries – this was also the defense argument of the lawyers Giuseppe Farina and Enzo Paolini – and that the expression "rascal" only evokes a known "movie character whose easy-going and sympathetic attitude is indeed emphasized".
"Words are the essential working tool of us journalists. Beware to be afraid! We have to choose those that are closest to the truth and use them with honesty, awareness and courage. And defend them all the way thorugh from any censorship, especially censorship of politicians, which often turns into an instrument of power and, sometimes, of intimidation" Annarosa Macrì told Ossigeno.
The journalist had used those expressions to remember an incident occurred in the room of the European Parliament when Salvini had criticized a measure under vote – despite having regularly been absent from the parliamentary sessions that had characterized the process – and had been attacked by his colleague Marc Tarabella who had harshly criticized his behavior, using the colorful expressions reported by Macrì.
A similar story, which again sees the Northern League leader as protagonist, occurred in February 2016 (see Ossigeno). In that case, it was the magistrate of the Court of Bergamo to send to the arhives a lawsuit against Davide Vecchi, a journalist of the daily Il Fatto Quotidiano, who – in an article dated November 13, 2014 – had criticized the politician and his work.
RDM

I contenuti di questo sito, tranne ove espressamente indicato, sono distribuiti con Licenza
Creative Commons Attribuzione 3.0