In Calabria the first walk of threatened mayors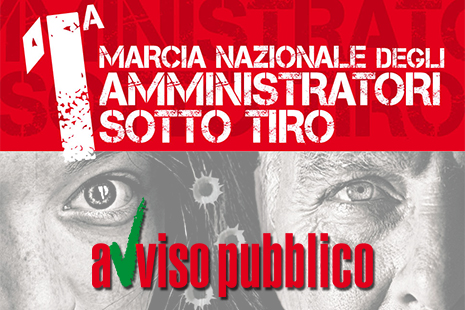 On June 24 hundreds walked in Polistena (Reggio Calabria) and then in Gioiosa Jonica. In 2016, there have been 180 mayors "under fire": the same number of acts of intimidation against journalists
In the first one hundred and fifty days of 2016, in Italy, mayors, councilors and other local administrators have been the victims of over one hundred and eighty threats. These are many, are definitely too many. This figure says that the situation remains serious and in some areas of the country is much worse. Therefore the association Avviso Pubblico, which keeps track of these threats and represents hundreds of local administrators, saw fit to react. Faced with facts so severe it is impossible to stand still. We have to move, and in the first row there must be precisely those who suffer threats. Therefore Avviso Pubblico organized a protest march of threatened mayors, the "First National March of administrators under fire", which took place on 24 June 2016 in Calabria.
To the scheme also public institutions and associations, including the National Federation of the Press and Ossigeno per l'Informazione took part. The march took place in Polistena (Reggio Calabria) and was concluded with some interventions in the square. Speakers included, among others, the president of Avviso Pubblico, Roberto Montà, the President of the Parliamentary Anti-Mafia Commission, Rosy Bindi and the journalist Michele Albanese who lives in Polistena and, from 15 July 2014, when he suffered serious death threats, has bee living under police protection around the clock, just like the other 30 (or maybe 50) Italian journalists.
There is expectation to know in detail the threat data for 2015, which will be disseminated in the nearby town of Gioiosa Jonica (always in the province of Reggio Calabria) at the event.
"These are very worrying figures. The number of threats to local administrators and public officials in 2015 – Avviso Pubblico anticipated – has increased significantly and the phenomenon is rooted, albeit unevenly, over much of the Italian territory. "
It is possible to use the same words to say what is happening to the Italian journalists. In the first 150 days of 2016, 185 of them have been threatened for publishing news deemed unwelcome to the powerful and to the criminals. Hundreds of being targeted, just as local administrators, and, like them, have serious problems that no one wants to face. There are objective data to prove it. But the threatened journalists do not march, do not complain, do not make a political lobby. Maybe they could do something too.
ASP

I contenuti di questo sito, tranne ove espressamente indicato, sono distribuiti con Licenza
Creative Commons Attribuzione 3.0