Cilento. Threats to journalist: "Do you want to die so young?"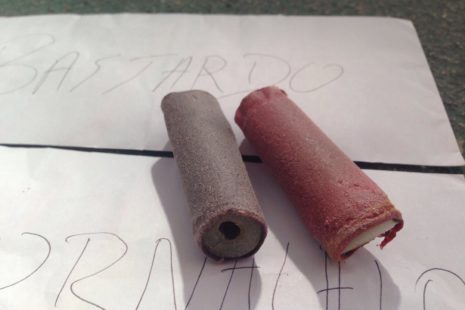 Between April and July 2016 Luigi Martino received five anonymous letters containing two cartridges already exploded. The chronicler deals with judicial news
On 7 September 2016 the journalist Luigi Martino, chief editor of the Giornale del Cilento, police reporter and collaborator of Il Corriere del Mezzogiorno, denounced the Police of Marina di Camerota (in the province of Salerno) of having received, between April and July 2016, five anonymous envelopes containing death threats and shotgun cartridges already exploded. The complaint is against unknown persons. The envelopes delivered to Martino weekly contained pages of the weekly insert "Sette" of the Corriere della Sera on which some letters were circled and some words underlined to form threatening words when read in sequence, solving an easy puzzle. In the threatening letters, there are no explicit references to a specific topic among those treated by Luigi Martino. But he imagines that the threats are related to his journalistic activities.
THREATS – "Stop, or sooner or later you'll die. Corriere del Mezzogiorno and Giornale del Cilento should fire you or we'll do it. Put that way it seems to me that it's better to finish it, maybe soon"; and again: "Dead son of Federico (the journalist's Dad) we know who you are and where you live you journalist spy. Stop breaking people's balls. We are telling you the good way. Careful". These are some of the phrases deciphered by Martino. The last warning, that of July, says: "Will you stop ruining people or do you want to die so young? Think about it."
The reporter found the messages on the doorstep, in his car and in the attached garage of his home. The pages and cartridges were inside white envelopes with offensive writing addressed to him: "You bastard," "Son of a bitch", "Newspaper vendor".
"To the first two I did not given much importance. Then – the journalist told Ossigeno – when I saw that the thing was going on, I decided to keep the letters and report to the police. By covering judicial reporting I follow several investigations and put a little but of nose everywhere, from the entrepreneur under investigation to the gangster trying to expand their criminal activities. I am therefore not in a position to attribute the threats to a specific fact or a particular person. But I imagine that the incident is related to my activities."
Ossigeno already dealt with Martino. The last time for a proceeding for defamation, in February 2016.
RDM

I contenuti di questo sito, tranne ove espressamente indicato, sono distribuiti con Licenza
Creative Commons Attribuzione 3.0