Defamation. The government data require a new law proposal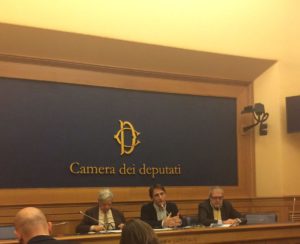 Press Conference by Ossigeno at the Chamber of Deputies: the dossier submitted with the unpublished figures on prosecutions and sentences for journalists
"The draft law on defamation is not an appropriate response to a situation that the government itself describes for the first time with official data." In this phrase by Alberto Spampinato, director of Ossigeno, is the essence of the Dossier data that the Observatory for threatened journalists has developed in collaboration with the Ministry of Justice. Among the most significant figures, the 155 journalists who every year are sentenced to prison terms that usually do not exceed twelve months' imprisonment, but which on the whole add up to over a century.
The Dossier, presented during a press conference on October 25, 2015 in the Chamber of Deputies, is titled "Shut up or I'll sue you". The meeting with journalists is the second round of the Four days of initiatives organized by Ossigeno for the International Day to end impunity for crimes against journalists, called by the UN.
"There is no reaction capability by institutions and by politics towards those who want to silence journalists," the MP Claudio Fava, vice president of the Anti-Mafia Commission, said while opening the press conference, focusing on the safety of journalists. Question which was widely discussed in the first round of October 24, 2016 in the Senate of the Republic and that, as Fava observed, "is common to the whole of Europe".
The opinion is also shared by Paolo Butturini, member of the secretariat of the FNSI, which has highlighted the Ossigeno's merit of "having broadened the spectrum of reporting on information all across Europe".
The conference was also attended by the representative of SEEMO, Radomir Licina, Chiara Sighele of the Observatory Balkans and Caucasus, Giuseppe Federico Mennella, Secretary of Ossigeno per l'Informazione, and Alinda Vermeer, MLDI representative, the London-based NGO that supports the legal one-stop-shop by Ossigeno.
"We are assisting – the MLDI lawyer said – journalists in Italy, as we do to those in Africa and Asia. We are surprised that this kind of problems occur in a democratic country like Italy."
RDM
Leggi in Italiano

I contenuti di questo sito, tranne ove espressamente indicato, sono distribuiti con Licenza
Creative Commons Attribuzione 3.0
/