Ending Impunity. Meeting with Ossigeno in Bruxelles, on October 27th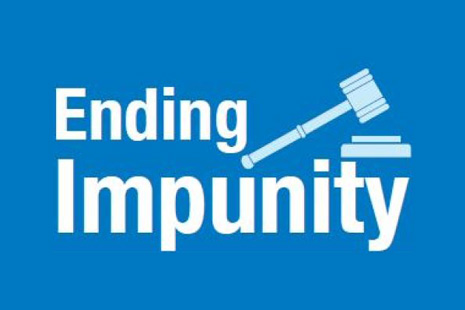 At the Press Club Brussels Europe, in two sessions the "Marking International Day to End Impunity for Crimes against Journalists (IDEI)
A debate on International Day to End Impunity for Crimes against Journalists (IDEI) will be held in Brussels Thursday 27 October 2016, 12h – 14h30 at the Press Club Brussels Europe (PCBE), Rue Froissart 95, 1000 Brussels
The Press Club Brussels Europe, together with the Association of European Journalists (AEJ) in Belgium and the Italian NGO 'Ossigeno per l'Informazione', which monitors thousands of cases of threats against journalists in Italy, is organizing this event to alert journalists as well as the political authorities in Europe to this pressing issue and to seek robust  responses to the serious dangers journalists face in their daily work.
The event will consist of two sessions:
12.30-1.30 – The geography of violence perpetrated against journalists.
Opening remarks: William Horsley, Chairman of the AEJ in the UK
Speakers: Erisa Zykaj, Albanian journalist, Brussels correspondent  of ABCNEWS TV Pieter Stockmans,  Belgian journalist at MO magazine and co-author of "De Jihadkaravan"
1.30-2.30 – The situation in Italy and the work of  "Ossigeno per l'Informazione" (Oxygen for Information).
Opening remarks: Ricardo Gutierrez, Sec. Gen. of the  European Federation of Journalists (EFJ)
Speakers: Alberto Spampinato, journalist and founder of "Ossigeno" which has uncovered thousands of cases in Italy in which media workers have become victims of intimidation, threats and physical or legal abuse. His brother Giovanni Spampinato was killed on October 27th 1972 because of his work as a journalist
Sarah Vantorre, a Belgian researcher whose doctoral dissertation in Italian studies focused on the work of Sicilian journalist and intellectual Giuseppe Fava, who was also murdered because of his work.
This event has the support of several international media organizations including the international AEJ.
A welcome light lunch will be served between 12 noon and 12.30 pm for confirmed participants.
THE RECURRENCE – Over 800 journalists were killed in the past 10 years around the world. In nearly all these cases their killers have never been brought to justice. To put an end to this, a 2013 resolution of the UN General Assembly on Safety of Journalists proclaimed November 2nd each year the International Day to End Impunity for Crimes against Journalists (IDEI).
The date was chosen to commemorate the death of Ghislaine Dupont and Claude Verlon, two French radio journalists killed by rebel fighters in Mali on that date in 2013. Their killers have still not been caught and brought to justice.
AEJ in Belgium, Ossigeno per l'informazione, Press Club Brussels Europe invite to confirm participation to stephanie.le.clercq@pressclub.be
ASP
SEE THE UNESCO MAP OF ALL CELEBRATIONS

I contenuti di questo sito, tranne ove espressamente indicato, sono distribuiti con Licenza
Creative Commons Attribuzione 3.0