Impunity. OSCE to Ossigeno: also in Europe we have problems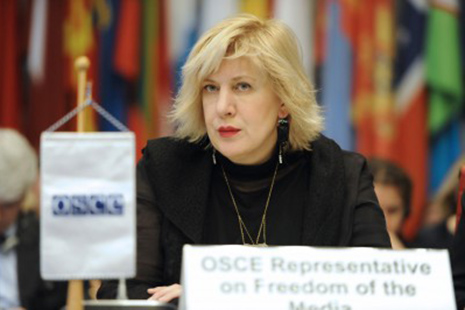 This is the video speech from the Representative on Freedom of the Media, Dunja Mijatovic at the international conference promoted from Ossigeno in Roma, Monday 24 October 2016
I sincerely thank you for inviting me to speak today, to commemorate this important event, the International Day to end Impunity against Journalists. I'm sorry I could not join you in beautiful Rome, but at least I have this oppotunity to adress you from cyberspace. A day established by the United Nations in 2013 to call attention to one of the evil facts of life in the 21st century: that no journalist is safe anywhere when impunity from persecution permeates our cultures, north and south, east and west, free and closed. There may be no more important date, on a journalist's calendar, than November 2nd.
That is because the safety of journalists is the foundation upon wich the right to report freely is based. I cannot overstate the importance of what I have just said. Your safety, first and foremost, provides the basis for getting the story and telling it. Without it, we have nothing, without it we have nothing but memorials to courageous individuals who have given their lives invain. Today I'm not going to mention the names, yet today, sadly, in too many places around the world, and that includes countries across Europe, members of the media and their families are targets of violence, including murder, beatings, harassment, and intimidation. And the authorities turn a blind eye to these offences against mankind and democracy, sometimes it is the authorities themselves who commit the violence. I think it is important that recognize the fact, and publicize it, make it public, if we want to make any headway whatsoever in our battle to make journalism safe to practice in the 21st century.
But let's start from where we are today. And that is a very, very bad place. You will hear the statistics, real figures, numbers, about prosecution of those involved in the attacks on journalists. They are appalling. Those who attack journalists and those who plan the attacks often are not found. If they are found, they are not successful prosecuted, and if they are prosecuted and found guilty, they spend precious little time in jail.
Why is this? We can only conclude that in large parts of the world there is no political will to protect the media, and there is a denial that we have a problem. So any attempt to change the landscape must begin with a fundamental change in the way the authorities and the public at large view their relationship with the media.
To me, that starts with changing their prevailing view that it is the media that are criminals, not the wrongdoers themselves. And to understand that, all you have to do is to look at the use of criminal diffamation laws to squelch free speech. It gets a lot easier to accept violence against journalists and let their attackers run free if they could end up in prison for what they write or say. So as I have before, in connection with the call to conjure up the political will to address the violence problem I ask again for nations to abolish libel laws that dehumanize the media. Simply put, it's time to stop vilifying the media and start treating journalists with respect. I wish you a fruitful and successful event.
Dunja Mijatovic

I contenuti di questo sito, tranne ove espressamente indicato, sono distribuiti con Licenza
Creative Commons Attribuzione 3.0