Impunity in Italy. The lack of will and the old libel law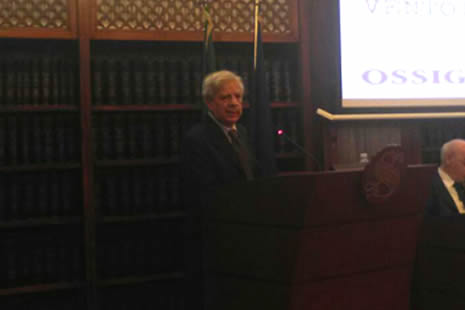 This is the Alberto Spampinato speech at the conference "UN. Journalists assaulted, guilty unpunished", promoted by oxygen, Monday, October 24, 2016 in the Senate, in Rome
Press freedom is not enjoying good health, not even in the West, not even in those countries which almost 250 years ago created this right and made it one of the pillars of democracy. Even in these countries intolerance towards this right is high. The desire of those in power to limit this freedom is growing, to regard freedom of expression as no longer an inalienable right as, for decades, international treaties and constitutional courts have "affirmed" but instead as a concession that can be revoked.
How is that a precious right such as this can be left to wither. On what does it depend?
Above all, I believe, from the fact that this right is easily violated, since in our countries the law does not punish its violation as such, in contrast to what is done for other just as important rights. Secondly because everybody should learn at school that this right is fundamental and belongs to each of us insofar as it adds to freedom of expression the right to be informed promptly, completely without the interference of those in power. That still doesn't happen and also for this reason the poor state of health of press freedom does not attract the attention, the concern and the response that it merits.
The United Nations did well to establish in 2013 with Resolution 68/163 the International Day against Impunity for Crimes against Journalists (IDEI) which we are celebrating today. As has been said, the Resolution exhorts the Member States not only to commemorate the victims but to respond positively, to adopt concrete measures to prevent these attacks, to punish those who inspire them and commit them and to combat the culture of impunity which makes them easy and convenient.
UNESCO, which I thank for the attention it has paid to our celebration and to a similar one which we will hold on Thursday, 27th October at the Brussels Press Club, reminds us that besides the over 700 murders of journalists in the past ten years there have been recorded globally in the same period other very serious if not fatal attacks more numerous than murders.
In response to 700 murders, UNESCO notes that there have been just 87 sentences, less than one in ten and similarly few sentences for the thousands of non-fatal attacks which demonstrates the scale of impunity.
These terrible events happen not only in Erdogan's Turkey which for years has justifiably attracted our concerns and the attention of the media. To all its journalists, bloggers and intellectuals I would like to send a message of encouragement to resist and a strong sentiment of solidarity. These terrible facts, UNESCO reminds us happen not only in authoritarian countries, in war zones , in distant lands but also in Europe.
"A Lack of Political Will"
And it is this which the OSCE Representative, Dunja Mijatovic reminds us. I thank her for this message in which she states that all this happens because, still today in many countries, even in free Europe, "the political will to punish certain crimes is absent" and it is even denied that it is happening.
In Italy
We know that that is true even in Italy where, as I will make clear, the situation is still more serious. We know from the direct experience of the NGO Ossigeno per l'Informazione. Our independent monitoring organisation, staffed by volunteers, with a rigorous methodology confirmed by the Italian Parliament and recognised by international institutions has in the last ten years gathered daily information in the field, has verified it and distributed it. In this way it has produced a real map of the violations of press freedom which indisputably has put an end to the denial of the problem and has introduced a new, more concrete way of speaking about these issues and seeking solutions. We are proposing this methodology in other countries as good practice and in essence to establish that monitoring of the relevant facts which last April, the Council of Ministers of the Council of Europe with a Recommendation to the 47 member States asked each country to adopt in order to end the spread of what the Commissioner of Human Rights of Strasbourg defined as improper and hidden censorship. This censorship is spreading through unpunished violence and the introduction of laws conflicting with the European Convention of Fundamental Rights and with the Universal Declaration of the Rights of Man.
What has Ossigeno identified?
Here in brief is what we have identified, evidenced and made public in Italy, where eleven journalists have been killed, fifteen journalists have received death threats and live under police protection and at least another fifteen of which we are aware avoid serious attacks thanks to the protection and vigilance of the forces of law and order.
There are daily attacks to obstruct the publication of actual events and legitimate opinion. Ossigeno has recorded 3023 and estimates that there are at least ten times more, i.e., 30,230
The impunity for these attacks is practically absolute. When there is a trial of those accused, the news is sensational and even more so when one of these trials results in a sentence for those responsible.
50% of the attacks are physical attacks on the persons or their possessions
At least 10% cannot be prosecuted even if it is evident that there have been acts aimed at arbitrarily obstructing the freedom of expression. This happens since this right doesn't have legal protection as happens instead for other rights guaranteed by the Constitution.
40% of the attacks are conducted through the abuse of law and of judicial procedures, in large part by trials for defamation in print based on unfounded accusations and presumptions purposely formulated to intimidate and to exact retaliation.
The accusations of defamation as a pretext.
This flood of judicial procedure abuses represents a major pretext. And it is on this that I want to focus your attention as well as the attention of the Government, of Parliament, of journalist organisations both because these abuses are not adequately contested and remain unpunished and because we can finally describe this phenomenon with official objective data of the Ministry of Justice which we most sincerely thank.
This data has been produced on the explicit request of Ossigeno and required specific research on the part of government statisticians to whom and to the Minister Andrea Orlando we extend a special thanks.
Let us say immediately that this data describes a situation more serious than that presumed up until now also as regards the application of detention for journalists guilty of defamation in print. Contrary to what is believed, jail sentence is not a rate occurrence but systematic. But lets look at the figures.
The new official data
Each year in Italy there are 6813 judicial proceedings against journalists accused of defamation in print. There are 5902 trials of which 475 end with sentencing, that is 8%. Each year:
320 journalists are sentenced to pay fines
155 journalists receive jail sentences which on average do not exceed one year and which in total amount to a prudent estimate of103 years of prison.
To these impressive figures others can be added which for the sake of clarity I have summarised in several graphics.
I refer to some:
Each year there are about a thousand civil lawsuits initiated for the award of damages with an average request of 50,000 euro and an overall value of 45.6 million euro
71% of the accused are declared innocent in the preliminary phase but this phase takes on average two and a half years during which the intimidating effect remains hanging over him/her and with substantial legal expenses for the defence (at least 4,000 euro) which not everyone is able to afford. Total annual legal expenses borne by the accused amounts to 54 million euro and in large part have to be borne by those declared innocent.
Since other acquittals are declared in a subsequent phase, by the Tribunali, the end result is that a good 87% of lawsuits end with a sentence
Thus the false accusations of defamation by print in Italy make the machine of justice turn unproductively and create an enormous chilling effect.
A snapshot of the Italian reality.
These figures – and others no less impressive which we will publish tomorrow at 13:00 at a press conference in the Camera dei Deputati – have even astounded us, because they exceed by a long stretch all the previous descriptions as well as our estimates based on a small sample study. They are astonishing figures but this is a snapshot of the Italian reality.
What to do?
I want to conclude with some thoughts on the new scenario which we now know. Ossigeno is at the service of whomever has responsibility to suggest, choose, decide upon solutions and the most appropriate remedies to adopt both at a legislative level and in the organisation of the work of journalists. We are ready to provide a more detailed and precise framework and together to express our point of view, i.e., that of a observatory which produces data and objective analyses of the phenomenon and comparisons with other countries.
This new data reveals a quite different scenario, more dramatic than that which in 2013 inspired the proposed law to abolish prison and in 2014 and 2015 the modifications which were made to that text in order also to contest vexatious litigation. Our impression is that that proposed law still being examined by Parliament does not contain the essential measures to limit the chilling effect even if it envisages the abolition of detention, because several measures it introduces could produce a gelling effect on freedom of information.
Ossigeno maintains, finally, that the principal route to follow remains that of the decriminalisation of defamation in print, the same route followed this year for the parallel offence of insult. This route is recommended by many international institutions and we hope that it will be taken and followed. ASP

I contenuti di questo sito, tranne ove espressamente indicato, sono distribuiti con Licenza
Creative Commons Attribuzione 3.0
/