Journalists assaulted, perpetrators unpunished: to the senate Ossigeno's research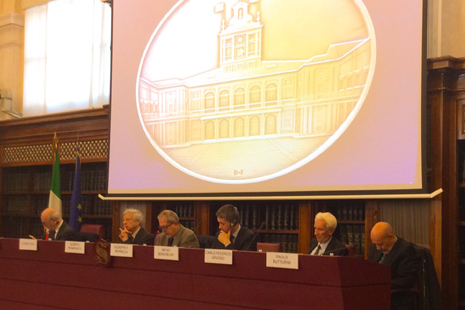 National and international guests discussed it the first of the initiatives for the International Day to end impunity for crimes against journalists
The Koch room of the Senate of the Republic has hosted the first of four days dedicated to Ossigeno per l'Informazione in honor of the "International Day, called by the UN, to end impunity for crimes against journalists."
The initiative, which also had an institutional backing, was entitled "UN: Journalists assaulted, perpetrators unpunished. The UN's alarm. What is going on in Italy" was evidenced by the gesture made by the Head of State, Sergio Mattarella, to attribute to Ossigeno the Medal of the President of the Republic; by the presence of the President of the Senate, and honorary member of Ossigeno, Pietro Grasso, who opened the proceedings, and by the message sent by the Minister of Justice Andrea Orlando.
During the first day there was a presentation of the most significant numbers of the dossier "Shut up or I'll sue you", produced by Ossigeno from the elaboration of statistics and data provided by the Ministry of Justice at the express request of Ossigeno itself.
After referring to the figures and the dossier's considerations, the President Grasso has called the Centre's work a "civil service".
Particularly valueable were the interventions of three foreign guests from London, Paris and Belgrade respectively: Alinda Vermeer of MLDI, the NGO that supports the legal one-stop-shop by Ossigeno; Medhi Benchelah, UNESCO Representative; Radomir Licina, vice president of SEEMO.
The OSCE Representative on Freedom of the Media, Dunjia Mijatovic, has sent a videotaped speech, underlining that there is no political will to create a legislation that is not punitive of labor and the role of journalists.
It was the director of Ossigeno, Alberto Spampinato, to illustrate and give a first interpretation of the dossier's data.  Numbers commented also from a legal point of view by prof. Carlo Federico Grosso; from a political point of view by the MP Claudio Fava, vice president of the Anti-Mafia Commission ; and from the professional and trade union point of view by the president of the Order of Journalists, Enzo Iacopino, and the component of the secretariat of the FNSI, Paolo Butturini.
To close the discussion, coordinated by the Secretary of Ossigeno, Giuseppe F. Mennella, the president of the Italian section of the European Association ofJournalists, Nuccio Fava, who stressed that the meeting was an opportunity "to reflect on democracy".
The initiative was attended by over one hundred journalists, subscribers to the the SIGEF platform for vocational training, university students, parliamentarians, information law and communication experts.
RDM

I contenuti di questo sito, tranne ove espressamente indicato, sono distribuiti con Licenza
Creative Commons Attribuzione 3.0
/