Pope Francis to journalists: do not submit to partisan interests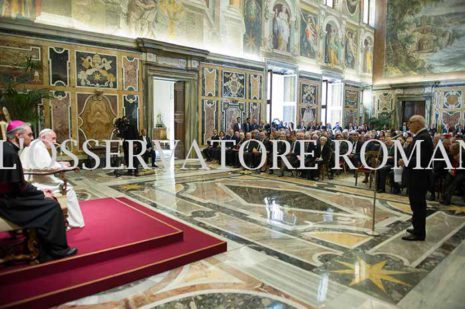 At an audience with the Pope where he explained how to practice their profession with honesty and their back held straight. The President of the Order, Enzo Iacopino, cites colleagues who work for a few Euros
Fausto Gasparroni – VATICAN CITY, SEPTEMBER 22 – Pope Francis explained to journalists how to practice their craft. These are important indications, almost a little treatise of professional ethics, those offered today by the Pontiff at the hearing with the National Council of Journalists, held in the Clementina Hall of the Vatican with President Enzo Iacopino along with the prefect of the Vatican Secretariat for Communication, Monsignor Dario Edoardo Viganò. Three key recommendations of Bergoglio to those who provide information: "love truth," "live with professionalism" and "respect human dignity", thus ensuring that journalism does not become "a weapon of destruction." In addition, a specific ethical and professional advice: "Never submit to vested interests, both economic and political."
After the opening addresses by Monsignor Viganò and President Iacopino – where the latter stressed the conditions of "slavery" by many who work for just a few euro -, and at the presence of a wide cross section of Italian journalism as well as a number of chief edtors (Mario Calabresi of La Repubblica, Roberto Napolitano of Il Sole 24 Ore, Enrico Mentana of Tg La7, Virman Cusenza of Il Messaggero, Luigi Contu of ANSA, among others), the Pope noted among the stuccos of the Clementina how journalists, "when they have professionalism", remain "a pillar, a crucial element for the vitality of a free and pluralistic society". And that's why he wanted to emphasize their "great responsibility." About his call to "love the truth," he explained that "the issue here is to be or not to be honest with yourselves and with others." "The releationship – he said – is the heart of every communication. This is especially true for those who make out of communication their job. And no relationship can stand and endure over time if based on dishonesty".
Today, he admitted, with the uninterrupted flow of events over the 24 hours, "it is not always easy to get to the truth." "In life not everything is black or white," and "even in journalism it is necessary to be able to discern between the shades of gray of events". But "this is the work – we could say the mission – difficult and necessary at the same time of a journalist: to get as close as possible to the truth of the facts and do not ever say or write something that, in all conscience, is known to be not true" .
On the second point – "to live with professionalism" – the Pope linked the "need to not submit the profession to the logic of partisan interests, whether economic or political." "The task of journalism, I dare say its vocation, is thus – through attention, care for the search for truth – to raise the social dimension of man, to encourage the construction of a true citizenship."
And he continued: from this wide perspective, therefore, to work professionally means not only to respond to the concerns, albeit legitimate, of a category, but to take to heart one of the lintels of the structure of a democratic society". "It should always make us think that, throughout history, dictatorships – of any orientation and 'color' – have always tried not only to take control of the media, but also to impose new rules to the profession of journalism," he concluded.
(ANSA)

I contenuti di questo sito, tranne ove espressamente indicato, sono distribuiti con Licenza
Creative Commons Attribuzione 3.0