Rome. Attacked a reporter and a cameraman of tv show Piazzapulita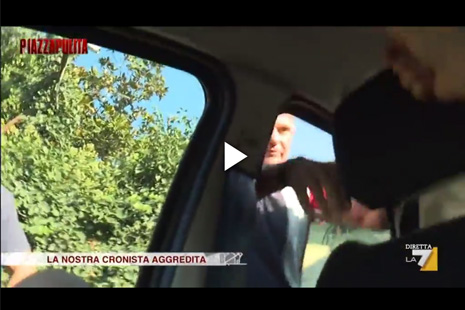 They were working on an investigation into the special waste management in the capital. On the fact, a complaint was filed. Protests from Order and FNSI, which announced the establishment of a civil suit
The journalist Sara Giudice, collaborator of the TV show Piazzapulita aired on La7, and her cameraman were attacked by two men, father and son, owners of a ferrous material recovery facility. The event took place on September 29, 2016 in broad daylight in Rome's Magliana district. Ms Giudice was working on an investigation into the special waste management in the capital.
The recovery plant owners have first withheld the two media workers, preventing them from getting away with the car. Then they threatened to "squash them". The elder finally broke the car glass and was "able to reach into the car, hitting the video operator and damaging the camera – so refers Ms Giudice to Ossigeno – Only a lucky maneuver allowed us to get away."
The reporter told and has shown the video of the attack live, during a Piazzapulita airing. The incident was reported to the police on October 5, 2016: the journalists, who had alerted the police of what was happening, encountered the patrol after they managed to get away. The video recording of the attack has been handed over to the Police as evidence in the investigation.
The Order of Journalists and the FNSI have expressed outrage at the attack and solidarity to the two operators. "It is – the leaders of the FNSI write – a democratic emergency: the competent authorities, beginning with the government, have a duty to intervene." The union announced its intention to form a civil party in the eventual trial.
"We have documented the attack, doing our job – Giudice told Ossigeno – Now, however, we must focus our attention on the subject matter at hand: in Rome there is a land of fires which is before the eyes of all. I hope that the investigation is useful in this regard. The aggression is the result of the attacks against the journalistic class to delegitimize our work, and make aggressions like these seem lawful".
Ossigeno already covered cases on Sara Giudice in August 2015 when, during the Fair of Tarquinia, she was attacked, along with her operators, by the owners of a shooting stand who proposed as targets the faces of politicians.
Luca Covino

I contenuti di questo sito, tranne ove espressamente indicato, sono distribuiti con Licenza
Creative Commons Attribuzione 3.0