Salerno. Sit in in front of the attorney for the reporter Rosaria Federico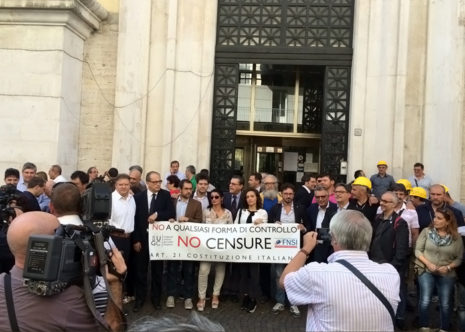 It was organized by SUGC and FNSI. Seized the phone of the journalist of La Città after publishing an article about a judicial inquiry. Giulietti: Minister must intervene
On October 3, 2016, before the prosecutor of Salerno, a sit-in was held in favor of the journalist of La Città di Salerno, Rosaria Federico, to whom – on 22 September 2016 – was seized her cell phone for an article about the murder of the Mayor of Pollica, Angelo Vassallo (read).
In front of the entrance of the Prosecutor, the journalists showed a banner that recalled Article 21 of the Constitution. The event, which was attended by dozens of journalists from various newspapers and colleagues of the news room where Ms Federico works, took place while in Naples the police was analyzing the reporter's phone.
Among those present, Claudio Silvestri, Armando Borriello and Antonio Prigiobbo for the SUGC (Union of Journalists of Campania); Gerardo Ausiello and Giuseppe Giulietti, respectively National Councillor and President of the FNSI (National Federation of the Italian Press); the president of the Order of Journalists of Campania, Ottavio Lucarelli.
"That of the phone seizure – Giulietti said in a statement released by the FNSI – is not a matter that concerns only Salerno. There are, in various places and in various ways, actions that turn off professional secrecy compromising the free exercise of freedom of the press. We will involve the Ministry of Justice and the Ministry of Interior. Meanwhile, on the case a complaint to the Council of the Judiciary has already been submitted".
In the statement released by the union, it reads that "at the end of the sit in of one delegation it requested, as established in a previous meeting with the prosecutor Corrado Lembo, to be received by the same Lembo. But the chief Prosecutor has made it known to be already engaged in another meeting."
LC

I contenuti di questo sito, tranne ove espressamente indicato, sono distribuiti con Licenza
Creative Commons Attribuzione 3.0